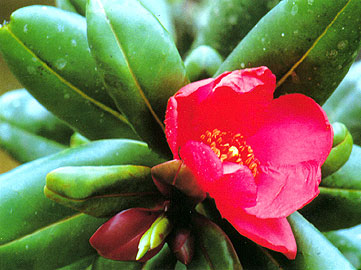 Wild boar churn the ground searching for yams and tubers. Darting through the scrub are barking deer and hares. These creatures, together with the bearded bear monkey and the furry giant squirrel, are the prey which sustains the dominant predator of the plains - the leopard. These upcountry leopards are lighter in colour than their dry-zone counterparts. The other feline inhabitants are the fishing cat and the rusty-spotted cat. The observant wanderer may also glimpse a pencil thin snake a mere 15cm long, a nose-horned lizard, a glow-worm hiding in the dark undergrowth, or otters delighting in the streams.
Other than the sounds of wind and water, the only other sounds to be heard are bird calls. A much-travelled visitor was heard to exclaim, in hushed tones, that this seemed to be one of the few places left on earth where the throb of an engine does not intrude.
Feeding in gregarious gatherings are flocks of yellow-eared bulbuls, velvet-fronted nuthatches, scimitar babblers, white-eyes, pied shrikes and orange minivets. Black-winged kites nest on the fir trees. Soaring overhead are black eagles and honey buzzards. Most of the endemic avifauna is found here. The rare whistling thrush frequents the arrenga pool. Staggering around in a drunken stupor after an overdose of nilloo blossoms is the colourful jungle fowl.
The plateau, 3,150 hectares in extent, consists of wet patna grasslands and tropical montane forests with differentiations so sharp that the boundary between the two vegetation types seems to have been drawn by tacit agreement. Continued...