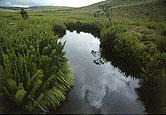 Every seventh to twelfth year the jungle paths become a mosaic of pink and purple and blue when the nilloo bursts into bloom in periodic splendour before it seeds and dies. Flowing streams and their rocky banks are lined with delicate ferns, while beneath the clear waters lies a fine tracery of flora which is constantly woven into an ever-changing pattern. The forest-clad escarpment of Hortons is source and watershed to Sri Lanka's two mightiest rivers - the Kelani and the Mahaweli - as well as many other streams, rivers and lakes, providing water to the western, southern and northeastern sectors of the island.
Approached from Colombo, the journey to Horton Plains is a five- or six-hour trip by road. The last lap is rather tough on low-clearance vehicles; a jeep or truck would be preferable, but it must be one with a good turning circle, for there are several hairpin bends en route.
NO INDIGENOUS POPULATION lives there. The only human occupants on a permanent basis are the staff of Farr Inn and the Wild Life Department. The history of Horton Plains is inexorably linked with the European world. Many British colonials are locally commemorated by having landmarks named after them. Captain William Fisher and Colonel Albert Watson visited the area in 1834 and named this wild region after the Governor of Ceylon at that time - Sir Robert Wilmot Horton. A Major Thomas Skinner, however, also refers to it by the more lilting name of Willmanee. Continued...