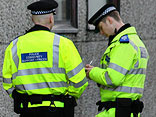 British Police wearing prominent luminous coats to be seen as opposed to Sri Lankan police inferior jackets with only two faded white lines.
Of late Sri Lankan Police has been able to dominate the news headlines on various issues of complaints ranging from Negligence, Assault, Abuse of Power, Prejudice , Illegal Arrests and Detention, and Bribery and Corruption, etc. As a consequence, President Mahinda Rajapaksa had to intervene and summon the Inspector General of Police Jayantha Wickremaratne with Senior DIG's at Temple Trees on 17 August 09 to give a pep talk on police responsibilities and also to remind that "NO ONE IS ABOVE LAW", which was followed by a Presidential Directive to the IGP to 'hunt errant police officers'.
Despite the arduous task the police is doing at present in performing their official duties which one must accept, a few rotten apples adorning police uniforms have always been the cause to tarnish the police image by their undignified, high powered and tyrannical actions, such as the recent Anuglana incident and a beating up of a student at SLITT Malabe University.
The purpose of this article is not to have a post- mortem of these recent incidents but to strike the iron while it is still hot on another area of Police responsibilities which is equally important but has been eclipsed for a fair amount of time.
TRAFFIC POLICE
"Traffic Police Headquarters was established in 1953 and it assists the Inspector General of Police in taking decisions on traffic policies and, thereafter it helps to implement them and closely monitor execution. Today, policing of road traffic in Sri Lanka has become a major task. Implementation and Enforcement of regulations and Laws come through powers vested on the Police by the Motor Traffic Act of 1951.The necessity to form a separate unit to control traffic within the city was recognized in 1950 by the Colombo Metropolitan Police. Due to the increase in volume of road traffic in the island, the Traffic Headquarters was inaugurated in 1953 to cover the entire island"
Some of the main functions of the traffic police and its Headquarters are listed as follows:
To enforce Traffic Laws, prevent violations of traffic regulations and prosecution of offenders
To investigate into accidents
To Control traffic on highways
Important Functions of the Traffic Headquarters
To maintain the Island's accident statistics; and to supervise and guide The MAPP system and its Island wide functions. Also to coordinate with the RDA and other stake holders in order to identify Black Spot Areas and to attend to Road Infrastructure defects and to take preventative action.
To direct accident prevention action
To Organise Road Safety work on Island wide scale
To train Police Officers engaged in traffic work and accident investigations.
To investigate any special traffic problems with a view to suggesting remedial action.
To examine the working of Divisional/District Traffic Branches, with a view to bringing about co-ordination and uniformity in the methods of handling traffic problems throughout the Island and to organise ,maintain and direct the activities of a " Traffic Circus" and which will operate throughout the Island giving demonstrations of the Road Safety rules at schools and public places.
To organise and conduct lectures Island wide for schools , Public and & Private organisations with a trained team of lectures specially selected on Road Safety and Road Craft and also training of school and other traffic wardens.
To co-ordinate with Ministry of Highways, Ministry of Transport, Commissioner General of Motor Traffic, National Road Safety Secretariat and other stakeholders with regard to Traffic Administration and Road Safety.
To conduct Senior and Junior Traffic Management Courses, Refresher Courses for officers in Traffic Branches.
To supervise the issue of traffic gear and to make necessary applications in keeping with modern technology to entire traffic for traffic administration and road safety.
When there are nearly 23 such wide and varied areas of responsibility entrusted to the Traffic Police, the Million Dollar question a sensible motorist would like to raise would be whether the Traffic Police dedicatedly and effectively monitor and implement the policing of the most vital sections of road traffic at a time the traffic problem has become acute chaotic.
Many articles, features and letters to the editors of news papers have been brought out over a long period of time highlighting various points, ideas and suggestions as constructive criticism in the past by prominent figures in the public to help the traffic police in their arduous task of policing road traffic, but it is very unfortunate that many of the sane ideas that have been offered by the public have fallen on deaf ears on traffic authorities, the consequence of which 99% of the motorists as well as pedestrians today are either not aware of the meaning of the word ROAD DISCIPLINE, or able to convince that they have an iota of knowledge on the Highway Code.
LANE DISCIPLINE AND OVERTAKING
Today majority of the motorists in Sri Lanka are either ignorant of Lane Discipline on roads or just do not bother to obey traffic laws while the traffic police turns a blind eye and make the situation worse. If one were to rub salt to injury, one would assume that either most of the traffic police are either ignorant of what is expected of them to execute Motor Traffic Law in terms of the Road Traffic Act 1951 and its amendments, or are not just bothered! This becomes evident when at times, untrained 'non-traffic' police constables are seen handling traffic during peak period of traffic on road junctions which makes the problem more acute. A foreign tourist who visited Sri Lanka has come out with some of his observations, which I must say, though hilarious to read, but are highly injurious to the Traffic Police and the entire Sri Lankan Police Force.
He emphasises the fact that, 'Sri Lankan Road Rules broadly operate within the domain of Karma where one has to do one's best and leave the results to the insurance company'! "Do we drive on the left or right of the road? He questions and answers by saying 'both'. He goes on to say: "Basically you start on the left of the road, unless it is occupied. In that case, go to the right, unless that is also occupied. Then proceed by occupying the next available gap, as in a game of chess. Simply trust your instincts, ascertain the direction, and proceed…Adherence to road rules leads to much misery and occasional fatality. Most drivers don't drive, but just aim their vehicles in the generally intended direction. Don't you get discouraged or underestimate yourself except for a belief in reincarnation; the other drivers are not in any better position."
ROAD DISCIPLINE AND OVERTAKING
Do we drive on the left or right side of the road in Sri Lanka? A very appropriate question indeed! This has baffled me every time I sit behind the steering wheel in Sri Lanka and have always had to remind myself that I am not in Europe.
Everyone admits this as a major hazard on Sri Lankan roads today, and this in fact falls within the perimeters of the Traffic Police functions and their responsibility to enforce the Law, prevent violation of Traffic Regulations and prosecute offenders.
Pedestrian Crossings
Pedestrian crossings in Sri Lanka mean nothing in terms of moving heavy traffic on Sri Lankan roads but has turned out to be a mere joke ! There is an element of indiscipline on the part of both motorists and pedestrians equally on road usage. Most drivers do not bother to stop at zebra crossings unless they are forced to do it. They simply do not consider it as a must by Law. It makes it even worse when a police officer waves to the motorist to proceed while the pedestrian is held back at the crossing standing on it. In the West this is regarded as a serious motor offence and the moment pedestrian steps on to zebra crossing, motorists MUST stop at once. So what we see today while trying to cross a road is pedestrians either doing tangos and running back to the pavement, commanding motorists to stop with their raised hands or saluting to motorists as a means of begging to stop and spare their lives!
Pedestrians on their part have no fear whatsoever for their dear lives when crossing roads in most idiotic ways. They believe that it's their god given right to dart across the road from any place any time, even after jumping out of moving buses. This no doubt definitely comes under the purview of 'Accident Prevention and Police Training ' clauses in the traffic police responsibilities.
Tuck-Tuck ( Three-wheelers) and Motor Cycles
The way Tuck-Tuks and motor cyclists use public roads is condemnable. Their belief that roads and even pavements are their domain makes the traffic situation more acute and dangerous as they keep on creeping in and out of every available space from all sides like cockroaches; and motor cyclists riding on opposite lanes ( head -on with oncoming vehicles) to avoid traffic queues pose unwarranted danger for motorists as well as pedestrians.
Confining them to the near side of the road (inner lane) would be the answer to overcome this problem, with vigorous traffic police monitoring and imposition of heavy fines for riding or driving on pavements as well.
It is equally important to restrict heavy lorries and juggernauts carrying 40ft long containers to their allowed speeds and lanes (unless for overtaking purposes). Traffic police is supposed to monitor this along Colombo- Negombo road but one could only see, on and off, three wheeler drivers being copped while heavy and long vehicles and buses take to the fast lane and over speed. Such law breaking would come under Traffic Headquarters responsibilities to train police officers engaged in traffic duties.
'Nose Diving' at Traffic Light Signals
It's not only annoying for a disciplined motorist who waits at the white line, at the base of a traffic light signal post, when red light is indicated to see some motorists, motor cyclists and tut tuts creeping in and out and occupying the road area of moving traffic, thus making it highly dangerous too. This is another area where motorists have to be ingrained strictly to 'stop' at the white line and 'not beyond' to block the moving traffic.
So much have been written about the behaviour of private bus drivers who are always on high speed and in a mad rush , as if there is no tomorrow, overtaking all passing vehicles from the wrong side (left lane) while blaring their ear piercing horns. Buses are a major factor for causing accidents. This has been proved over and over again and umpteen number of articles have appeared on the print media as well as on the television news coverage, but it is very sad to see the problem is getting from bad to worse despite all such publicity.
If Traffic Police were to concentrate 100% on their responsibilities as detailed in their own web site, and concentrate on Road Safety work on an Island-wide scale and act as 'Adviser and Consultant' in all traffic matters, then they should also take into consideration on the police officers who stand in, on street junctions in pitched dark, managing traffic without being seen by the motorists.
Some officers do not bother to wear a reflective overcoat which should illuminate in the dark against light beams of motor cars. Standing on road sides in the dark (in most areas roads are in pitched darkness) and trying to sort out traffic is an highly dangerous operation which can act as a death trap itself , as the powerful light beams of vehicles coming from opposite direction ( most of the time coming with full beams on , particularly the private buses) tend to blind motorists . In such predicaments motorists could hardly spot shadows of any police officers standing in the dark as drivers have to concentrate on the road ahead, try to avoid the glare from oncoming vehicles from opposite direction and also to be cautious of the ' creepers' trying to overtake from the wrong lane. In the olden days there were circular platforms in the middle of the road as 'Police posts' where the traffic police officer could stand on it and monitor traffic, which enabled both drivers and the traffic officers to have a clear vision of what was happening ahead.
Bicycles and mopeds
Push bicycles going in the dark without lights is another major hazard on road safety. Traffic Police used to prosecute cyclists who rode in the night without lights a decade or two ago. Suddenly such enforcements seem to have flown through the traffic headquarters windows! Riding without lights in the night time is also a violation of the traffic law.
49 cc Mopeds with pedals are not supposed to register with RMV or the rider required to wear a helmet, whereas the models without pedals need registration and a helmet becomes mandatory. But there are so many 49 cc mopeds on the roads today (peddle-less type) without a registration number and the rider not heeding to the law! This, in a way is a very awkward interpretation of the traffic law because if in the case of a rider of a 49 cc with pedals knocks a pedestrian down on the road there is no way of identifying the offender if he were to scoot off . A fall can cause head injury whether one rides 49 cc or even a push bicycle, and that is why even cyclists are wearing helmets in western countries and wearing helmets for motor cyclists have made law.
Traffic police overpowering electronic traffic signals
There are numerous instances where electronic traffic light commands are over powered by a traffic police officer standing in the middle of the road. This is said to be to speed up of the movement of traffic flow but the disadvantages by such operations are many fold.
(1) When a traffic police officer overrides a Red signal and commands a motorist to proceed, a motorist coming from opposite direction gazing only at Green Light (for him ) may dart across without observing the traffic police who is not visible to him. In case of such an incident and an accident were to take place, will the police give an assurance or evidence in a court of law to say that the police over powered the red signals and commanded the motorist to proceed? In such a scenario it will confuse the issue to isolate who the offender is – Is it the Police officer or the motorist who is at fault ?
(2) To install a traffic light signal post at a busy junction costs a considerable amount of money the aim of which is to have uninterrupted traffic flows and giving an equal and a fair share of time limit to every motorist. When a traffic police officer stands in the middle or at a corner of a road and takes charge of the situation, it not only creates problems, as level of thinking between a human mind and electronically set precision timers of traffic light signal system tend to differ. Besides, there is nothing more frustrating than to stand idling behind a traffic light once it turns green and a police officer decides otherwise and let motorists who face red light proceed! This kind of incongruent activity not only helps to pollute the environment, but builds up unnecessary traffic jams , and contributes to extra consumption of fuel too. Borella Bo tree junction and Welikada clock tower junctions are typical example of such constant operations.
Alternatively, well timed traffic lights signals at Devi Balika junction at Borella and Nugegoda are tailor made operations where timing is set to give one minute or so to every direction of traffic. Unfortunately, even at times a police constable comes in between and overrides the traffic light operation to bring chaos. After spending hundreds of thousands of rupees to install traffic light systems at the Kottawa junction it appears either the system is defunct or shut off recently, thus making very difficult for motorists. Traffic light system that stood at the Ward Place, Austin Place and Gregory's road cross junction has been removed suddenly for road repairs recently thus making it more chaotic for traffic flow as there are no signs yet of its emergence!
SPEED LIMITS
One would say speed limits in Sri Lanka are a thing in the past, pending a court case. Mr. Leo Perera, a retired Senior Inspector General of Police and presently a practising lawyer once appeared in a speeding case between one Mr. Premasena Dissanayake and Wattala Police on an alleged traffic offence and the Wattala Magistrate discharged the case urging the police to be more aware of the traffic laws (Daily news article by Thava Sajitharen – Cops lose case trying to enforce illegal speed limits). During a Fundamental Rights Case at the Supreme Court, the then Chief Justice Sarath N. De Silva noted there were different signboards stating various speed limits though the speed limits at the time in the City was 56 Kmph and 72 Kmph outside city limits.
Although he ordered "all boards which were against the law should be removed' it is pathetic to see numerous boards at various places displaying varying speeds. Only hundred yards away from the main access to Sri Lanka Parliament on Jayawardenapura road 50 Kmph board hangs day in and out as an eye sore to be seen by all the Traffic Police who constantly go in and out of Parliament. So are other law makers, ministers and parliamentarians who attend parliament sessions regularly but no action has been taken to carry out the Supreme Court order! Same pattern is repeated along Colombo- Negombo road with 40 and 50 kmph boards still glaring at motorists. Last week I was struck by a speed limit board which said 40 kmph in the Ambalantota town area. Surely these are areas that enable the public to point a finger at Traffic Police and to question on their devotion and dedication to what they been appointed for !
Traffic offences are equal to general crimes as accidents due to negligence and non adherence to motor traffic laws in the country contribute to unwarranted fatal accidents and deaths. As the road accident death count is on the rise every year the pressure will naturally build on the Traffic Police authorities to deal with the problem. Like in the case of Dengue outbreak several drastic steps were taken to inform, educate and finally impose fines on perpetrators of the law, it will become the bounden duty of the Traffic Police Headquarters to move with the times and find solutions to the ever increasing chaotic conditions on the roads.
It would be prudent to first educate the public on the High Way Code and Traffic Laws of the country with the help of news paper advertising , radio and Television and finally giving a warning and a cut off point that anyone who defies traffic laws will be fined on the spot. And in doing so, traffic police should be vigilant and efficient to perform their function strictly as otherwise we can only say Good Bye to any hope of building a disciplined motoring society in Sri Lanka. After all, there is no point in having hundreds of Laws in the statute book if they are not executed properly and efficiently. Unless these problems are solved, Sri Lanka will never be able to see the light of a disciplined motorist society for generations to come
Writer is an Associate Member of the Institute of Motor Management and The Institute of Road Transport Engineers, London.