TENTH ANNIVERSARY OF SINHALA NEWSPAPER IN THE U.K.
by Dr. Tilak S. Fernando reporting from Colombo
---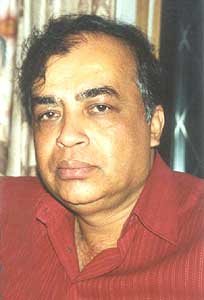 A decade, in any lingo, is a long period of time in terms of publishing and distributing a newspaper. It becomes even more laborious when one takes on the responsibility of such a yeoman task on one's own shoulders single handed. To execute such an operation it not only demands absolute dedication, but involves a tremendous amount of monetary burden and risk factor as well, to ensure its smooth and uninterrupted operation.
Publishing a newspaper is not simple. It involves three main vital functions of editing, publishing and distributing. To fulfil this task in Sinhala format from a foreign land is even harder. With the ever changing political ambience in Sri Lanka, always associated with a full dose of mud slinging at each other, and in the midst of an ongoing terrorist war, to publish a constructive and objective journal needs a lot of courage. In this regard the editor and publisher of Lanka Viththi, the only Sinhala journal published in London and distributed to many parts of the world over the past ten years qualifies to be congratulated on its successful 10th anniversary.
In 1997 on the Sinhala New Year's day Daya Ananda Ranasinghe presented the Sri Lankan expatriate community in the UK with a precious 'Avurudu gift' in the form of a Sinhala News paper and called it Lanka Viththi, carrying a prominent message, under its masthead: "Lanka Viththi is for the Sinhala Readers wherever they are." Undoubtedly it created history as the first ever Sinhala newspaper published outside the mother country and within a very short spell of time Lanka Viththi entered the World Wide Web in Sinhala fonts, moving with the times.
Looking back, over a period of ten long years, it would stand to reason that everything in life is bound to change rapidly on a daily basis. By the same token it would also be correct to assume that the physical appearance of editor and publisher of Lanka Viththi, Daya Ananda Ranasinghe, may have changed over this period, yet his integrity, commitment, conviction and the determination to go forward had not moved an inch.
Concealed behind any successful act or product the amount of painstaking work that goes to make it a success is enormous. In newspaper publication too this responsibility is shared by different departments and sub editors doing a series of multi function tasks such as setting up of children's pages, women's pages, literal pages, classical pages, editorial and sports pages etc. To make the task even more complex advertising and circulation play a vital role with extra staff to keep the business going! When such factors were equated with Lanka Viththi production, evidently minus all such extra facilities or additional staff, the editor and publisher had to literally turn himself into a human robot to get his paper on time at the end of every month.
Where would one find erudite Sinhala scholars and professors on any given subject in the UK, unlike in Sri Lanka, who could be accessible, approachable and helpful at short notice? In terms of an English newspaper of course, the facilities available on the internet to down load on any subject are enormous and easy. Under such circumstances, the survival of this Sinhala journal for ten successful years could only be seen as a miracle. Today with an increased circulation Lanka Viththi serves thousands of Sinhala readers in France, Italy, Sweden, USA, Latin America, Australia, Middle East and Sri Lanka.
The main concept of this Sinhala journal has been to help maintain harmony in the Sri Lankan society, with a prime aim of developing the intellect of Sri Lankans as well as acting as a guiding beam of light to the young children of Sri Lankan parents and to educate the community in multiple ways in showing how to lead a peaceful life as good citizens wherever they live.
Daya Ananda Ranasinghe needs no formal introduction as the Editor of Lanka Viththi. He has served as a journalist for many leading newspaper groups in Sri Lanka and has bagged more than 33 years of journalistic experience. He is a renowned lyric poet and a scriptwriter for Sinhala films and a singer too.
He has also released a music CD with six love songs of Dharmadasa Walpola, H. R. Jothipala, Mohideen Baig, Victor Ratnayake and the Hindi Maestro Mohamed Rafi, under the title "Ma Sith Gath Gee"(songs that appealed to me). It was a yet another dream Daya Ananda had as a child in becoming a singer during an era of popular songs on the radio. Daya Ananda Ranasinghe does not consider himself as a singer but underlines the fact that he is a journalist and quite happy as the editor of Lanka Viththi
In 1982 Daya Ananda won the best creative scriptwriter of the year OCIC Award in Colombo for the film Adhistanana (Determination) that represented Sri Lanka in the Film Festival in Manheim, Germany.
Looking back at his track record one could only deduce that it is this very determination (Adhistanana) which has probably given him the courage to fulfil his long felt dream to dedicate ten years of committed service to his mother tongue and his fellow Sinhala expatriates who are scattered round the globe.