VICE ADMIRAL ASOKA DE SILVA - FORMER COMMANDER OF THE NAVY
by Dr. Tilak S. Fernando reporting from Colombo
---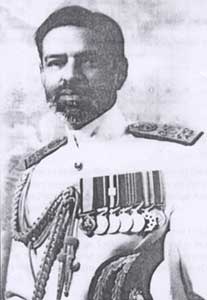 Former Commander of the Navy, Vice Admiral, Asoka de Silva, V.S.V, ndc. Psc (Rtd) had to answer the inevitable call from above on 22 December 2006 after a colourful and a fully accomplished career in the Sri Lanka Navy at the age of 75, after a brief illness.
Born in 1931 to a renowned Surgeon and one time Superintendent of the De Soyza Maternity Hospital, Colombo, the late Dr. A.H.T de Silva and Mrs. Beatrice de Silva (nee Rodrigo -daughter of Mudliyar Thomas Rodrigo), Asoka was the third child of a family of eight members.
Educated from the kindergarten at the Royal College, Colombo, Asoka demonstrated his intellectual aptitude as a student and excelled in his studies as well as in Sports. From a very young age he positively displayed a powerful self-confidence which was circulating in his blood stream as a delicate flame during his college cadetting days by commanding the College Cadet Corps as a Sergeant. Discipline that was inculcated in him as a Boy Scout moulded him to be a robust young sailor when he joined the Regular Force of the then Royal Ceylon Navy as an Officer Cadet, straight from College in 1950. On completion of his assault-training course, this young Officer Cadet underwent further naval training at the legendary Britannia Royal Naval College in Dartmouth, UK.
Within a matter of one year, in 1951, Asoka de Silva was promoted to the rank of Midshipman and subsequently as an Acting Sub Lieutenant. He was commissioned to the rank of Sub Lieutenant in 1953. Climbing the promotional ladder in the service in double quick time Asoka elevated to the rank of Lieutenant in 1955 and Lieutenant Commander in 1963.
Assuming duties as a Commander in November 1970 Asoka de Silva held major and strategic command and staff positions varying from the Naval Officer-in Charge of Trincomalee, Co-ordinating Officer of the Administrative District of Polonnaruwa and Commanding Officer of the Flag Ship Gajabahu.
He proved his mettle as an experienced and professional administrator when he undertook the responsibilities in 1973 as Captain and executed his duties as the Naval Officer-in-Charge of Trincomalee, Master of m.v Lanka Kanthi of the Ceylon Shipping Corporation and as Chief Staff Officer (Operations).
Asoka's rapid promotions, in the shape of a fast moving vessel with its accelerating knots, were to become a common panorama when he was made Commodore on 4th February 1978, a significant day in Sri Lanka's national calendar. Until he was promoted as the Chief of Staff at Naval Headquarters on 1st July 1979, Asoka de Silva served as the Naval Officer-in-Charge of Trincomalee, Co-ordinating Officer TAFII (East), Deputy Master Attendant (Trincomalee) and Director Naval Operations.
Asoka was a loyal, efficient and an industrious officer who had an untarnished lifetime career in his chosen field in the Sri Lanka Navy. In recognition towards his overall contributions to the Navy, his country and his people, The Executive President of Sri Lanka promoted him to the rank of Rear Admiral. He reached the zenith of his career and a lifetime dream when he was appointed as the Commander of the Navy in June 1983.
Three years later, in 1986, Asoka de Silva's name was written in history books as the first Sri Lankan Officer to be elevated to the rank of Vice Admiral of the Sri Lanka Navy. He held the high office of the Commander of the Navy for three consecutive years until his retirement at the age of 55, on 1 November 1986; simultaneously acting as the Co-ordinating Officer of the Administrative District of Trincomalee, Commander -in-Chief of the joint Services Special Operations Command Headquarters established in Vavuniya and being responsible for the administrative functions of Mannar, Vavuniya, Mulative and Trincomalee.
Trained at Britannia Royal College, Dartmouth, the Royal Naval College in Greenwich, Communication Specialization Course at HMS Mercury, in the U.K, Staff Course at the Defence Services Staff College, Wellington and National Defence College in New Delhi, in India, he discharged his unblemished duties as a thorough 'Officer and Gentleman'.
Asoka de Silva was an unassuming gentle man, with a magnanimous heart, yet the responsibility, the position and the naval uniform projected him as a proper and tough sailor and an exceedingly disciplined leader with 'no nonsense attitude' whenever he had to deal with indiscipline or a subordinate going off beam.
During his life long career in the Navy he received seven distinguished awards, including The Vishista Seva Vibhushanaya, The Sri Lanka's Navy 25th Anniversary Medal, The Ceylon Armed Services Long Service Medal and Clasp, Presidential Inauguration Medal and The Purna Bhumi Padakkama.
As a sportsman, Vice Admiral Asoka de Silva contributed immensely towards promoting sports activities in Services by being the Chairman of the Sri Lanka Navy Sports Board and Chairman of the Defence Services Sports Board.
After shedding his Naval Uniform he was privileged to work as the Defence Attaché, at the Sri Lanka High Commission in London, a diplomatic placement he was entrusted upon during 1969-1970
His charismatic qualities had touched the hearts and admiration of his superiors, colleagues and subordinates. As a mark of recognition of being a source of encouragement and inspiration to his fellow officers and sailor colleagues, the Executive President of Sri Lanka made him serve as Sri Lanka's Ambassador in the Republic of Cuba, upon retirement from the Navy.
Dear Asoka, your bereavement is not only an irreparable loss to your family, relatives and friends, but to the nation as a whole. While thousands still shed a silent tear and cry within their hearts in remembering you, it takes me personally back to the UK when you and I did a test drive of your new vehicle at the London Hyde Park after assuming Defence Attaché's duties at the Sri Lanka High Commission. I shall always hold that occurrence in my heart and treasure it as an indelible memory.
May you attain Nibbana!