Interview with Dr. Hector Perera
by Dr. Tilak S. Fernando from London
---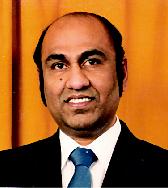 Dr. Hector Perera is an experienced educationalist with more than 20 years of teaching experience in Science and Chemistry. Graduated in the UK with a BSc (Hons) degree he has completed a MSc and a PhD in synthetic Organic chemistry - The thesis : synthesis of branched-deoxy monosacchirides by epoxide opening with alkyllithium cuprate - a future antibiotic component for medicine. Dr. Perera's prime aim as an educator has been to maximize pupils' achievement, raise their learning standards and inspire them to have the much needed self-confidence by motivating them in the right direction through his many years of teaching experience in a variety of seats of learning in London, Surrey and Kent. He can be regarded as a unique mentor who offers distance learning programmes in Chemistry and Science subjects on the Internet 'free of charge' to students in far and wide destinations in the world. His latest academic achievements are authoring books for GCSE science students and a revision CHEMISTRY Model Questions and Answers book for GCSE students which is pending publication through an interested publisher. With a long and colourful teaching career in the UK, Dr. Perera can be regarded as a rare model of a ' Teacher' in every literal sense.
Q. From your CV I note you are a devout mentor. What is your specialised field?
A. I am a Chemistry and Science teacher, graduated in England with a BSc (Hons), MSc and a PhD in synthetic Organic chemistry. I have many years of teaching experience in schools in London, Kingston Upon Thames (Surrey) and in Maidstone (Kent).
Q. During your teaching career what has struck you most in students?
A. The main factor was the non-existence of motivation and abilities - in certain students.
Q. How did you help them in such state of affairs?
A. With my first hand experience, I helped them to understand the subject easily by giving them simplified work to build up their confidence.
Q. As a teacher how do you see yourself different from others ?
A. Being a teacher, I have seen and experienced how teaching is conducted in certain schools in the UK and what and how children learn. Believe you me, it is sad to say that in certain situations the teachers just requests the students to copy the text book - that's all to their teaching and learning process by students ! This is what some teachers do, I must admit. On the contrary my teaching is quite different to such modules. I address students' difficulties directly, give explanatory model answers and explain how I came to such conclusions. In most of the published general model Q & A books what is given is only brief answers but not in detail. When I was a teacher at Davies's College, Holborn (private) every single student got through the exam with either an A grading or A Star. I still preserve a congratulatory letter given to me by the Principal of Davies's College to this effect.
Q. Have you not initiated Distance Learning programmes of late ? .
A. On the Internet or Distance Learning as it is now widely known, I help any student even across the seas. This is the modern technique to teach whereby students can access my website www.chemistry4u.co.uk whenever there is a need for them to seek help. In return I send the work directly to their computer.
Q. How user friendly are your web sites?
A The tuition work is clearly labelled to make students identify their individual groups. For personal guidance I can be contacted by e-mail on: hperera@btinternet.com. I would like more and more Chemistry students to make use of my E- learning service by accessing www.chemistry4u.co.uk for resourceful information. Any student can e-mail me .
Q. How is the student response generally?
A. It has been enormous and they come from all over the world. I am quite enchanted when they come back after their exams and thank me for achieving higher grade passes.
Q. Have you not diversified your teaching to other subjects on the Internet?
A. Why not ? Since October 2001, I have a separate website for GCSE Science, students and it acts as a good guide to help students in their MOCK examinations.
Q. How much do you charge for that service?
A. I do not concentrate on a fee strictly as the main criterion in my work. I offer tuition to Primary School Children for SATS and GCSE students (aged 14-16 yrs) and Advanced Level students aged 17-18 years. Initially students are welcome to access my website easily.
Q. These days the word private tuition is a money spinner, especially with science subjects. How & why do you offer this service 'free of charge' ?
A. There are two types or tuition that I offer. Distance learning on the Internet and one- to- one private tuition lessons. I must say one to one private tuition is expensive to parents but Internet tuition is very cost effective and efficient. I think INTERNET TUITION is a 'FREEDOM PASS' for students, whenever they want to learn without having to queue up for costly private TUITION.
Q. Do you mean you conduct fee paying tuition classes also ?
A.. GCE Advanced Level private tuition has to be done on a one- to- one basis if students are to benefit properly and not otherwise. If you were to look at other private tutor's fees generally, the fee would be in the range £15 - £25 for this type of tuition. But on the Internet what I do is to give FREE tuition to begin with, then at a later stage If and only they really like my work they are welcome to pay whatever they can afford. To simplify this let me say that for Internet Tuition I keep the cost down as low as £3.00 per lesson for GCE Advanced Level Chemistry ; For GCSE Chemistry or Science lessons just £2.00 per lesson. Who else would you think teach for this kind of fees? Can I be more reasonable than this? As a dedicated teacher I make it flexible by offering help from my site on the Internet (www.chemistry4u.co.uk) for those who cannot afford to pay:
Q. This is quite incredible in a world where we live in today as nothing is given free of charge. I am sure you must be the only tutor who offers this sort of service.
A. As a teacher, in a true sense, I try to be very reasonable. During the period 1980-1994, I had a lot of students, some of my past students are qualified doctors today. It gives me the pleasure of thinking that I have been a success in the vocation I chose as a career.
Q. Apart from being happy with your success have you not thought of putting all that knowledge and experience in a text book form ?
A. Actually, positive feed backs from my students have made me think that it's worthwhile to compile my work into a book form .
Q. So what have you done it so far?
A. Yes, I have compiled two books covering model questions and answers - one for the GCSE level and the other for the GCE Advanced Level students.
The GCSE book titled The CHEMISTRY GCSE Exam Target, Model Questions and Answers (ISBN 0 9534669 0 6) is already in print ( Printing by Ability Printers. Middlesex. Harrow ). This model Q&A Book has more up to date questions and answers from all areas of the GCSE Science Syllabus suitable for 2005/2006 and acts as a good guide to help students in their MOCK examinations as well as it gives exam techniques, what to write, how to write with examples and supplementary notes which makes it different from other similar books. The book explores a rich variety of possible GCSE Chemistry topics covering more than 30 topics. The aim of the book is to maximize the students' achievement, raise their standard and inspire the confident of passing GCSE Chemistry or the Chemistry section in GCSE Science, which is made, by the combination of three science subjects called Physics, Chemistry and Biology. It will help in preparing for any science exam for 14-16 old children in England or in whole of UK .
Q. Where is it available for sale?
A. As the printing has been done by me it is available in some bookshops only at present and I need to find a suitable publisher to make it widely available. However, one can order the book directly from the author at a student-discounted rate by e-mail- the address is the website www.chemistry4u.co.uk . I am glad to say a few more bookshops are interested in the GCSE Chemistry Book for sale. Work may be available in a CD!
The GCE Advanced Level Chemistry Model Q&A book is ready for publication and I am on the look out for a suitable publisher . Although the book is still pending publication, I give out some of the text in it to students on request . Furthermore, I would modify this work [CH1, CH2, CH3 etc] as required by individual students and send tutorials through the INTERNET or on a CD or may be even in printed form
Apart from Chemistry, for GCSE students, I also offer GCSE Science work on topics such as Humans as Organisms, Darwin's theory of Evolution, Electricity and Magnetism, Light and Sound. Some of this work is accessible on my website FREE of charge.
Q. What advice would you give to GCSE students who will read this interview, world wide?
A. My Chemistry GCSE Model Questions and Answers are suitable for all GCSE Double and Single Science students and for Chemistry GCSE separate Science students. You need to ask only One question from yourselves: Do you really need to pass your GCSE Chemistry ? If the answer is yes, then you are in the right place, please e-mail me on chemistry4u@btinternet.com.
The web site is www.chemistry4u.co.uk . This site will be updated regularly with more up to date work for GCSE, GCE Ad Level and GCE Advanced Supplementary Level students. Some other topics which will be included in the GCSE Science work would be Humans as Organisms, Darwin's theory of Evolution, Electricity and Magnetism, Light and Sound . Also there will be a special slot in the website for some Primary School science suitable for SATS as well.