BOOK REVIEW - LIVING CAPSULE: Author - Arthur Withanage - Regency Press – ISBN 0 7212 5715 9 - £3.95
by Tilak S. Fernando from London
---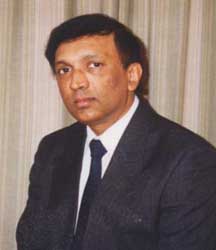 A medical thriller by Arthur ( Athula) Withanage, published by Regency Press in London and New York, zoomed straight to the top ten of the thriller category of book sales in the UK, with its first edition in 1989.
Living Capsule is a fiction where the author combines murder, romance, bribery and medical ethics surrounding 'unauthorised' experiments on human beings, and takes the reader through an imaginary journey along intricate hospital and surgical routine into the operating theatre and up to the mortuary.
Registrar, Robert Grant was a surgeon who worked at Penderhurst Royal Infirmary. His colleague, the Senior House Officer, Dr. Peter Miller's suspicions were aroused following a series of sinister incidents at the hospital. Why was the Indian Anaesthetist, Dr. Patel found hanging from a rope in his room? Was it suicide…? And if so, being an Anaesthetist could he not have taken a lethal dose of Morphine instead? Was he then murdered? Was it a coincidence too, that even the hospital Biochemist was found dead? Another murder….? How did a hand of a certified dead body in the mortuary hung out to be exposed…? Was the night watcher of the mortuary after a black mail stunt or a bribe…?
Amidst all such mysterious occurrences Dr. Miller becomes romantically involved with pretty Sarah Roberts, who is also a doctor in the same hospital, little realising that she is already in love with another Registrar. Highlighting the normal ups and downs and the hiccups in romantic relationships, the author covers typical complex, sensational, confused and emotional situations among Peter Miller, Sara Roberts and John Waterworth, exposing human weaknesses and the misery, followed by tragedy, after John Waterworth becoming paralysed and finally dying. Amidst such whirlpools and heart burns, tears and perplexity finally Sara Roberts and Peter Miller find happiness by getting together in an everlasting union.
Although the fiction is based on mere fantasy, yet it deals with a serious medical theory to see whether the human brain can be made to survive death and kept alive on near-death patients as well as to see the possibility of resuscitating even the dead. Dr. Robert Grant attempts to do this by injecting specially formulated capsules, invented by him, through a hole in the skull. He believes that if the brain could be kept going for several hours, rather the than 2- 3 minute allowance given to surgeons by nature to work on, in case of brain death, it could help them save millions of lives.
For this purpose, Registrar Robert Grant stumbles at first on illicit tests and experiments with dogs to discover methods of resuscitating the dead, and gets embroiled in a murderous plot when a mafia boss who visits from the USA wants to monopolise his secret formula contained in the newly invented capsule.
According to Mr. Withanage there still exists a controversy in real life among the medical profession as to when a person should be declared dead! He says, " the present medical knowledge has not been really sufficient about brain death". In that context his imaginary thought to keep the brain cells in a chemical surrounding for two to three hours, long enough to get other organs functioning, may sound like bizarre medical technology which still belongs in the realms of science fiction, but who knows, that might become a reality in the twenty first century!
While this question of resuscitating may be the subject of debate, the author, Mr. Withanage , is adamant about his second theme: " However much they may be tempted, surgeons must never use patients as guinea pigs". Citing a French scandal he insists : " You should not do experiments without consent. Even to resuscitate people who have no chance of a decent life can be cruel. Patients trust doctors and in full faith leave their lives in the hands of doctors and surgeons, and that imposes a responsibility, which must be taken seriously. Although relatives may have feelings, the patients must always be put first".
Mr. Withanage has carried the germ of the book in his head for years – ever since hearing of a childhood story about two people coming back to life after apparently dying from snakebites in Sri Lanka.
The author, Mr. Arthur (Athula) Withanage, is a Sri Lankan, Fellow of the Royal College of Surgeons of Edinburgh, Ireland, England and of the International College of Surgeons.
He was trained in Edinburgh and Ireland. He moved to Wales in 1980. Ever since he has dedicated over quarter of his life serving as a surgeon based at the Withybush General Hospital where he is currently the Clinical Director in Surgery. In 1993 he was awarded the Gold Community Award for his dedicated services for the people of Pembrokeshire. Subsequently Smith and Nephew Foundation awarded him the Silver Scalpel Award for excellence in surgery- made to the surgical trainer of the year .
Apart from surgery, Mr. Withanage has contrasting hobbies such as writing and drama. 'Within a capsule' was, his first English novel. His other English books include Night of the Angel and Flowers Dust and Stars. His Sinhala publication 'Saman Mali Sandamali' has been made into a Sinhala tele drama called 'Pahan Kanda and televised in the Sri Lankan TV. His latest book in Sinhala (provisionally named as 'Gagarin') is in the final stages of completion.
Mr. Withanage considers himself settled in Wales, putting his medical skills at the disposal of local Pembrokeshire people. Despite the serious and romantic topics he seems to treat writing novels as light relief, his career as an author is set to continue in the future. Living Capsule is also available from Sri Lankan bookshops in Colombo, including Vijitha Yapa Bookshops around the country.