FACE 2 FACE with TISSA MADAWELA
by Tilak S. Fernando from London
---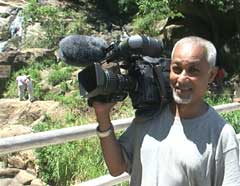 Wherever there is a Sri Lankan gathering in London, be it a religious function, social, musical or fund raising event, there is one Sri Lankan who never misses such an occasion. His presence at such venues is not merely as a spectator but to perform a yeoman service by performing as cameraman, film editor and producer. Tissa Madawela, the Additional Rupavahini Correspondent in London aims to keep the Sri Lankan TV viewers at home abreast with what is happening in England amongst the compatriots in the UK.
Tissa Madawela was the pioneer in London to screen Sinhala films to the expatriate community two decades ago with his "Guru" and close friend, G.D. L. Perera, another well-known name in the Sri Lankan cinematic and television world. Tissa subsequently diversified his ambitions towards Sinhala tele-drama productions in London. Now that he has prematurely retired from a 9-5-work routine he concentrates more on cinematic tasks. With a collection of the latest equipment that he has acquired, he says he is now 'fully equipped to produce Sinhala films or teledrama in the UK' and is also willing and able to extend his services to anyone who has any plans to venture into this area. A few months ago Tissa Madawela spent three months in Sri Lanka, working on his own tele drama production "Suwanda Para Nowe" which is due to be released soon in Sri Lanka. He is also planning to show it as a film version in London for the benefit of the Sri Lankan expatriates in the UK. Tissa Madawela has an added advantage over other TV drama producers because he is a self-made technician, cameraman, video editor and sound recordist. During a recent pow-wow at the Tricycle Theature in North West London, Tissa Madawela came FACE 2 FACE with Tilak S. Fernando; the following are the excerpts of the interview.
Q. You have been a pioneer in screening and promoting Sinhala films in London from the Classic Cinema at Praed Street, Paddington, from 1980s, on every last Sunday of the month. Why did you discontinue it?
A. My Guru in the film world and friend GDL Perera initiated this project. G.D.L was the Manager at the Praed Street Cinema hall at the time. With his knowledge on films and guidance, we managed to screen Sinhala films regularly for about 5 years until the cinema was sold out to a property developer.
Q. Didn't you take an interest in video filming in London long before the video camera became a common 'toy', so to speak? What inspired and drove you towards this field in the first instance?
A. I was involved in the film industry in Sri Lanka for a long time before I came to England. Therefore, inevitably I was inspired to continue in the same field in London as well.
Q. Today you are a household name being the most experienced professional within the Sri Lankan community in London who has taken a keen interest in cinematic affairs related to Sri Lanka and Sri Lankans living in the UK. It would not be wrong for me say that you are probably the only person who is engaged in filming, editing them and making short news related films and documentaries covering almost every Sri Lankan activity. And you do it by spending long hours out of your free time and go the extent of dispatching them to the Sri Lankan television companies out of your own pocket. You certainly have to be really dedicated to do this! How many documentaries and other programmes have you done so far?
A. Tilak, when you consider any job, dedication is the prime factor. To put a number to my work would be quite difficult as sometimes I myself forget about the things I have done. My first documentary on Sri Lankan TV was Amaradeva's London performance, organized by the Sinhala Association in 1981. Ever since I have covered many countless cultural, religious and social programmes which were shown on Sri Lankan television. My idea was mainly to project to the audiences at home what happens in England. Once I was appointed as an Additional Correspondent to the Sri Lankan Rupavahini, the responsibility expanded and my enthusiasm too swelled. I must mention here how grateful I am to Ven. Galayaye Piyadassi Thera, MBE, Head of The Sri Saddhatissa International Buddhist Centre, for his assessment of my work and recommending me to the Sri Lankan authorities.
Q. Making a documentary is not an easy task and it requires one to be professional all round because it is not simply a case of handling a camera, isn't that so?
A. Yes, as I said before, I do most of the associated tasks by myself and over the years I have acquired up-to-date cameras, sound, lighting and editing equipment to undertake any production. I am most grateful to many of my friends who have helped me in many ways and I must make a special mention of Sisira Chandrasekera, Wimal Alahakoon and Wilfred Perera, who were very special to me. On the technical side I am a self-taught, with guidance from my friends in the industry.
Q. This surely involves a lot of your time and drains your energy out. How do you cope with such responsibilities and associated pressures? Do you get support and encouragement from your family? I am sure each job must be taking all your evenings, nights and weekends too!
A. Quite true Tilak, in fact, all my spare time is spent on filming and editing programmes. I have a very understanding wife and I have trained my son Anupa, who has shown a keen interest in becoming a professional cinematographer. He has just graduated from Sheffield Hallam University in fine arts, including filmmaking. He is becoming my shadow, so to speak, when I am engaged in this type of work. Besides, now that I am a free man I have bags of time as opposed to the days when I had to rush to work in the morning after a heavy night of editing etc.
Q. In the very first Sinhala teledrama, Rata Giya Atto, produced in London by G.D.L. Perera you worked as the Assistant Camera Operator with a world famous, ITN cinematographer Tony Mander, who shot 007 films. How confident were you at that time having to rub shoulders with a world class professional in the job?
A. Tony Mander was a simple, friendly, and a helpful person to work with. We came to know Tony when we hired professional video equipment to record Amaradeva's 1981 concert in London. Ever since we have been good friends and he has parted quite a lot of his knowledge to me in all aspects of filmmaking.
Q. In what other London productions did you get involved?
A. I have worked as the production designer of GDL Perera's English film, Peter of the Elephants, which was filmed in Sri Lanka and sold to an International distributor.
Q. How about his second film made in London Winners and Losers?
A. Unfortunately, due to my family commitments at the time, I could not take part in that production.
Q. About three years ago you diversified and upgraded yourself into a co-producer in Sriyani Amarasena's fist teledrama, Irabata Tharuwa, filmed in London. What experience and lessons did you learn out of it?
A. Ira Bata Tharuwa was the first British/Sri Lankan co-production made in London. Lilani Perera initiated this. I was only helping them out, basically on the technical and logistical side of day-to-day filming. During four weeks of shooting we got the chance to work with a young Sri Lankan professional cast and a Director by the name of Sudath Rohana. Sudath is an extremely gifted artiste, who has progressed to become one of the leading film and television Directors in Sri Lanka. After meeting with him in London, during the shooting of Ira Bata Tharuwa, we became very close friends and he has pledged to work together again in a production set in Europe, when his hectic schedule eases off. My long time friend Wimal Alahakoon was a tower of strength on the production side. Without his assistance it would never have been possible at all to finish the project according to plan. I am glad that Wimal came forward at that time. By doing so, he not only helped us to finish the production but his second career as a tele drama actor was born. His second film Hemanthaye Wasanthayak clinched him a Sumathi Teledrama Award, a first for a newcomer - overseas.
Q. What happened to your later production in London - the Mona Lisa?
A. Well, much has been said about this disaster. After series of set backs it was completed by a new Director and re-writing the script. After a long struggle and at a huge expense we eventually managed to salvage something and it was shown on Sri Lankan TV.
Q. In your first solo production "Suwanda Para Nowe" which you did in Sri Lanka, who were the artistes who participated in it?
A. In 2003 G.D.L. Perera came to London and spent a few weeks with our family and he persuaded me to join with him in a workshop project he had planned out, to set up in his purpose built studio in Teldeniya. He named this project as Training the 5th Generation of his art group Kalapela. As I was also a product of Kalapela, I promised to assist him. I went to Sri Lanka with my wife and son Anupa and spent two months at G.D.L.'s studio working on the project. We took our camera and sound equipment from London. The project involved training a group of young people from the village near Teldeniya in making a Tele Drama. At the end of the two months we managed to produce a superb fifteen episode Tele Drama called "Samanala Gamanak" using the talents of all the girls and boys from the village who attended the workshop. I was so glad to have had the opportunity to work with G.D.L., after such a long time and especially on such a rewarding project. This experience changed my outlook and on the invitation of another friend Ranjit Fernando, whom I knew from my time at the Film Corporation, I decided to produce my own tele drama and Suwanda Para Nowe was the result. It was directed by the renowned artiste Chandraratne Mapitigama, his 48th teledrama. The cast includes Palitha Silva, Sanath Wimalasiri, Nadeesha Hemamali, Wijerathna Warakagoda, Wishaka Siriwardena, Suni Hettiarachchi and Indika Ginige.
Q. As a professional who is fully knowledgeable in the area of Tele drama production what advice would you give to any pioneers who might be reading this interview and are contemplating such adventures?
A. I must admit, with my long association with film and television work, it is not a glamorous profession. Producing a tele drama has many pitfalls, especially in Sri Lanka. Many inexperienced people have ventured blindly into this field and have flooded the market with un- saleable products. However there are many young creative filmmakers in Sri Lanka. So, if anyone wants to produce a teledrama, they must look for someone who knows what they're doing. They should also be aware of the rapid advances in technology that are integral to the field, especially the television industry.
Q. What are the formalities one has to observe or shall I say what rules and regulations one should obey in England when filming in a park or on a high street? Now that the word 'Terrorist' and 'Terrorism' are lethal as the gun power in the West, don't you think one needs to obtain clearance from police etc. prior to embarking on such expeditions?
A. This all depends on the production. If you have a large crew and a lot of equipment on location, the correct procedures are unavoidable. Proper permission from the authorities and insurance cover are essential. These can be expensive but with good planning and enough money anything can be arranged.
Q. With your experience in cinematography are you also able to direct a film?
A. Directing is a very different challenge to cinematography. I have no intention of taking up that role but I can confidently say that I am capable of handling the technical side of any production.
Q. If I say to you that I want to produce a teledrama, how much would you say that it would cost me here and to do the same thing in Sri Lanka?
A. This really depends on the ambitions of the project. It would probably be more expensive to make one in London, with artistes and crew brought from Sri Lanka. In Sri Lanka different directors have their own budgets. These range from about Rs.80, 000 to as much as Rs. 200,000 per episode, depending on the cast, crew and the type of the plot in the story.
Q. What is the big attraction about TV dramas produced in London as opposed to many produced in Sri Lanka? Is it because of the different scenery, buildings or because of the same old myth that 'England is a paradise and roads are paved in gold'?
A. When we produced Rata Giya Atto in 1981 there were hardly any teledramas. Many who saw it told us they were mainly curious about the British lifestyle enjoyed by ex-pat Sri Lankans. They wanted to see how houses looked like, how people dressed and such novelties. However, since then, many overseas productions have worn down this novelty, so I believe that foreign locations do not make any additional attraction if the end product is not up to standard.
Q. Have you got any other productions up your sleeve at the moment? Any surprises at all?
A. At present we are negotiating the screening of Suwanda Para Nowe. Many people have approached me to do productions in London and in Sri Lanka, but I'm not in a hurry. Whatever I do, I will consult my friend Ranjith Fernando to collaborate. We are interested in promoting new talent and our ambition is to give a push to the next generation of Sri Lankan filmmakers. I am keen to work with Sudath Rohana on a distinctive production. We are also negotiating with the London group Hela Parapura producers of the stage play Kelani Palama to assist us in producing a teledrama in London using talent from our community in London.