SRI LANKAN HIGH COMMISSIONER - A MAN OF SURPRISES !
by Tilak S. Fernando from London
---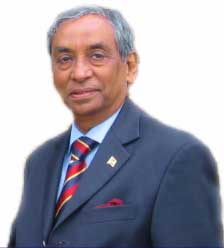 When Sri Lankans in London were somewhat thrown into a sombre mood after the Australian cricketers beat the hell out of the Sri Lanka cricket team in Australia last week, despite our bowlers doing an exemplary job without their hero, the world champion 'Murali, Sri Lankan dignity was re-invigorated by a Sri Lankan lady, Pushpa Kalubowila, said Mr. Faisz Musthapha, PC, The High Commissioner for Sri Lanka in London at a private party held on 3 July, in Hemel Hempstead, to felicitate Mrs. Kalubowila's recent three pronged achievement, which brought name to West Herts College, fame to herself, and glory to Sri Lanka.
Pushpa Kalubowila, a senior lecturer in Accountancy and Business studies at the West Herts College, Hertfordshire, won the Business Enterprise Award for the Best Lecturer 2004 from the International Association of Book-Keepers, secondly her personal achievements acted as an enzyme for West Herts College to receive the ' Top College Award' for the second year running and thirdly, the Dacorum Borough Council (County of Hertfordshire) accepted many recommendations aimed at the business development in the local community submitted by her in a business project titled " Investigating skills gap in Dacorum's Business Community' .
Everyone at the ceremony received the High Commissioner's sudden appearance at the felicitation ceremony with a very warm welcome and appreciation. Lucky Panagoda, a long time family friend of Kalubowila's had briefed Mr. Musthapha about Pushpa's achievements at the recent Festival of Cricket and casually mentioned about the felicitation ceremony to be held at Hemel Hempstead on 3 July, but no one expected his presence.
This is the first time a Sri Lankan High Commissioner in London has displayed his commitment and the bond with the expatriate community in London to such an extent. Not that he could have watched Wimbledon tennis from the comforts of his arm chair at home being on a Saturday afternoon or have easily gone for a game of golf, but his decision to cancel one of his other appointments and to go all the way to Hertfordshire to take part in the felicitation ceremony, just to say 'thank you' to her, on behalf of Sri Lanka, speaks volumes of the character and the professionalism of a fully accomplished ambassador to Sri Lanka.
Mr. Mustapha is a well-known appellate lawyer in Sri Lanka who had a lucrative and successful career before coming over to London as The Sri Lanka Government's Chief Executive to Britain. There was no need for him to have abandoned such a rewarding professional experience and come for a desk job in the UK just to serve Sri Lanka and look after Sri Lankans' interests in Britain. In doing so and conforming to the saying that ', Actions speak louder than words' his intermingling with Sri Lankan community in a multitude way and participation at their social gatherings, be it a cultural evening, Cricket Festival, Old boys do or a religious function, underlines the fact that he has outnumbered all the previous career diplomats who have served from London. Mr. Faiz Musthapa is a dedicated diplomat who is discharging his official duties and associated social obligations which the whole of the Sri Lankan Diplomatic service in Sri Lanka could emulate.