Face 2 Face with Mohideen Ishaq Baig
by Tilak S. Fernando in London
---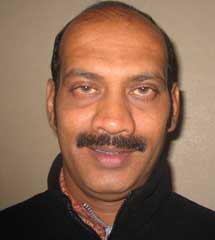 Mohideen Isaq Baig is the son of the well known singer late Mohideen Baig who made himself a household name in Sri Lanka, after emigrating from India and making Sinhala singing a career. Ishaq Baig was absorbed into the industry when he had to step into his father's shoes unexpectedly when Mohideen Baig suddenly passed away just before a golden jubilee anniversary concert to which he had made a responsible commitment. Despite his ambition to pursue higher studies after his 'A' levels, he was drawn into a singing career reluctantly. Ishaq Baig has inherited his father's talents no doubt, his high-pitched tone almost similar to Senior Baig's voice and the father's reputation have all added to junior Baig's success. He has travelled abroad on overseas concerts during his short career and entertained thousands of Sri Lankan expatriates in Australia and in the Middle Eastern countries. He was in London recently for the first time and received a standing ovation when he sang with G.S.B. Rani. He does not want to be a singer for the rest of his life, he says, but wants to become an entrepreneur, plans for which are still on the drawing board.. 'My father came from India and died in Sri Lanka but I am a son of Sri Lanka and I would not want to emigrate to any other country but die in Sri Lanka, this is my country, says Isaq Mohideen Baig. During his whistle stop tour to London I managed to squeeze him into a Face 2 Face chat.
Q. You are the son of the late Mohideen Baig, who reigned the singers' world in Sri Lanka for decades. Even though he is 'not with his fans' live today, his voice is certainly with his audiences still amongst Sri Lankans wherever they are. What makes you follow his footsteps of becoming a singer?
A. Frankly, I never wanted to become a singer in the first instance. My father always discouraged it and his advice to me was never to become a singer in Sri Lanka? It was a coincidence and an incredulous story. 20th November 1991 was the hallmark. There was a variety show dedicated to Master D.T.Fernando, on his Golden Jubilee celebration for being in the Sinhala Music Industry for 50 years. My father was to have taken part in that show in a big way but unfortunately just 20 days prior to the show father expired. Organisers and Master D.T.Fernando were in a quandary and I was approached to see whether I could fill in the gap, at least for 'Mohideen Baig's namesake'.
Q. How come, if you had not sung before?
A. Although I had not sung from a public platform before, I knew I had inherited some of my father's talents. (Smiling) After all, it should be in the blood, doesn't it? I had no choice but to stand in for my late father during the show. Maybe, Master D.T.Fernando knew that I could handle it.
Q. So what happened then?
A. At the show I sang my father's songs, " Aneka Jathi Sansare", Samada Thama hisata', 'Nari Latha Pushpe', 'Prema Lokaya' and Prema Gange" and they were received very well. I was happy at least that I could do justice to the show, in the absence of my father upon whom the organisers were totally dependent on that particular day.
Q. How did you pick up from there?
A. Mr. Herath at Srimalee Enterprises approached me to do a musical cassette. My father had done quite a lot of recordings for Srimalee Enterprises with Mr. Herath during his time, so it was, a kind of an opportunity that fell on my lap.
Q. What was your first professional singing cassette called?
A. " Piya Senehasa" - ( Father's Love) All songs in that cassette were dedicated to my father. Stanley Peiris arranged music.
Q. How did the public receive it?
A. It was very well received and it led me to do more and I have since done 30 cassettes of songs and cut CDs as well - all what father had sung before.
Q. Haven't you given thought to sing your own songs, now that people identify you as the Junior Mohideen Baig?
A. Yes, it's on the cards right now. By about in mid June 2004, I expect to release some of my own songs.
Q. Haven't you had a break still to be a background singer in films?
A. Why not? I have sung in ten films. I sang in the comedy 'Wela in London' also, which was shown in London some time back. Not only singing, but you can see a little bit of my acting also in a new film, produced by Roy de Silva where Gamini Fonseka has come back to acting once again. Here I will have a unique opportunity to sing a duet song with Pundit Amaradeva.
Q. What do you say when people comment that you have the identical voice of your father and they can't distinguish the difference unless they look at the name on the cassette or the CD?
A. No I don 't think so. I don't think they can compare me with my father at all. It's an insult to him if I accept that. Mohideen Baig was a singer who had a very high-pitched powerful voice.
Q. You are being modest here. When I listened to your singing for the first time in London I too was convinced to a greater extent to that notion. I guess you have the 'young Mohideen Baig's voice' and of course you were born and bread in Sri Lanka that your Sinhala accent is slightly different from that of your father's. Otherwise, on a question of high-pitched voice I am convinced that you too have the same capacity as I could hear it vibrate through the Camden Hall in London.
A. No comment (smiling!)
Q. Did you have any voice training at all?
A. None whatsoever. I guess I was born with it!
Q. As GSB Rani said from the London platform, you were privileged to sing duets with popular icons such as GSB Rani and Latha Walpola with whom your father sang and became quite popular. What do you think about that?
A. Yes, it's a unique opportunity. I have sung with GSB Rani and every song I sang with Latha Walpola too became a popular hit.
Q. What was your father's advice to you when you were young boy?
A. 'Son, never become a professional singer. If you want to sing, do it only as a hobby'.
Q. Then why are you doing it?
A. I had no choice when I was more or less pushed to the deep end when my father died 20 days before his show as I mentioned earlier. From there onwards I was automatically getting carried away with the current, but I do not want to continue with it for too long and I would pass my father's advice to my children too. I say to them, first comes studies and then the singing only as a hobby if you want to sing.
Q. But you have been having a successful career as a professional singer so far and why do you want to quit?
A. True. Although this is my maiden trip to London, I have been to Australia and covered the whole of the Middle Eastern countries many a time, entertaining the Sri Lankan expatriate audiences. Also I get the opportunity of touring within Sri Lanka and participating on variety of performances. But this is not a fixed, permanent or guaranteed career. You cannot compare singers in Sri Lanka with other countries. It's good as long as the going is good and when the curtain falls down on you there is no one to help you. On one aspect it is good for your ego when people identify you and come to you on the high street, inside a bus or shops and say hello, but I will have to think of the future and the future of my children.
Q. Do you have a family?
A. Yes, I have three children, that's what I have to think of very seriously. When I passed my 'A Level' examination I wanted pursue on higher studies and my entire future academic world got shattered when the father died.
Q. So what are you concentrating on if you want to quit singing?
A. At the moment I have a business plan, connected with travel. However, I am still putting the pieces in the jigsaw in to place and you will see it in the future.
Q. Didn't you consider anything else at all while you were singing all these years if you did not want to be a singer?
A. I would have been a professional cricketer today, but it all boils down to your fate I suppose. I used to be a good cricketer and opening bat at the Sinhala Sports Club. I used to play with Arjuna Ranatunge, Hashan Tillekeratne and Aravinda de Silva. My first choice was cricket but now it's too late, for one thing I have no time and an age barrier limits cricket.
Q. So now that you have experienced quite a bit of life outside Sri Lanka by visiting Australia, Middle East and London, would you like to live abroad given the opportunity?
A. No way. My father came to Sri Lanka from India, did a great job and died in Sri Lanka. I was born and bread in Sri Lanka and it is my country and I want to live and die in my country of birth.
Q. Is there any special song that is near and dear to you out of your father's songs.
A. Yes. My favourite song - Buddham Saranam Gachchami. I always start a show by singing that song as a tribute to my late father.