Face 2 Face with Pushpa Kalubowila
by Tilak S. Fernando in London
---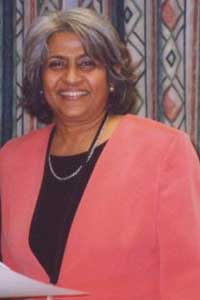 Pushpa Kalu (Kalubowila) once again placed Sri Lanka in the International map of Academics and professionals at an award ceremony held on 27 March 2004 at London's Café Royal in Piccadilly when she received the Business Enterprise Award for the Best Lecturer 2004 from the International Association of Book-keepers and simultaneously helping the West Herts College, where she is a senior lecturer in Accountancy and Business studies, receive the Business Enterprise Award for the Top college for the second year running.
Pushpa obtained her first degree from the University of Ceylon, Colombo Campus and worked as an Economics Lecturer upon graduating. Responding to an SOS' call from her fiancé, who was in London reading a CEng degree, she 'followed her heart' to support and to act as a tower of strength for him. Having abandoned her University lecturer's post in Sri Lanka, her life began in London on a low key but soon her ambition, skills and determination helped her to raise her head again. Coincidentally she managed to get into a lecturer's post at West Herts College. As a lecturer in Accountancy and Business studies she brought out her inborn skills in selecting, pioneering and designing accountancy courses for mature students who attended West Herts College and her abilities and capabilities were proven beyond any doubt when West Herts College received the Top UK College Award from the International Association of Book-keepers in the year 2002. Following are the excerpts from a Face 2 Face interview with Pushpa Kalu.
Q. Would you like to start with your Sri Lankan family background?
A I am the eldest of four children of Sriya & Amarasiri Padmaperuma of Arukwathu Pura, Padukka. My father was the Village Headman following the family tradition. My parents were public-spirited community leaders. All four children were brought up with a community sprit and it was imperative that we got involved in all rural development matters to set an example to the community. My father had a vision for the community and made pioneer initiatives soon after Sri Lanka received her Independence in 1948. His work spread out into many areas such Health, Education, Agriculture, Irrigation (for paddy cultivation), and cottage industry. As a result of his dedicated service, Arukwathu Pura village was recognised as the Best Model Village in Ceylon by the government in 1968
Q. Where you were educated in Sri Lanka?
A. Up to grade one, I was educated at a school in a nearby village. From grade two up until University education I was at Anula Vidyalaya, Nugegoda.
Q Have you shown your initiative and leadership skills at school age?
A. Yes, I believe so. I was a Prefect, House Captain (Chulasumana), Leader of the debate team and the School Captain (Head girl) and the best student of the year before entering the University of Ceylon, Colombo Campus, to read Economics.
Q. Have you ever thought of repaying back to your alma mater?
A. Yes, many a time, I am very keen to set up an OGA for Anula Vidyalaya in the UK, where we can help our alma mater. If I may, can I please make a request through your column for the Anulians in the UK to contact me (anuliansintheuk@hotmail.com).
Q. What did you achieve academically in Sri Lanka before coming to the UK?
A. I read Economics under professor Indraratne and passed out with honours and as a post-graduate student obtained a B.Phil. Soon after my graduation I became a lecturer attached to the Department of Economics.
Q. When did you arrive in the UK? and what made you come to England?
A. In the month of April, exactly 30 years ago, by following my heart! Kalu, my fiancé came to the UK to complete his C. Eng and found his new life in London very difficult. He requested my parents to send me to the UK and, with great resistance from both families, I arrived in on a fiancé visa.
Q How did your life in London begin?
A. Obviously, I came to London to support Kalu. We had a small wedding arranged by my guardian family Disa and Mali Dissanayake (both deceased). The first year was tough and it took us a while to get settled down to London life. My first job was at a local Tesco as an invoice clerk. I soon moved to Rymans Head Office, Accounts Department, where I received the best training from Renee Sugden, which helped me to blend into the London working culture. I worked there during the day and at St. Mary's Hospital, London, three evenings a week as a nurse. My Red Cross qualifications from Sri Lanka, helped me in that situation tremendously.
Q. How did you get a break to be a lecturer, and what prompted you to make that decision?
A. In early nineties, I was in a senior accounting post in a Plc and had to present a full-blown business plan to the Board of Directors. I picked up a short course at West Herts College, in spreadsheets to support my work. My lecturer, Liz Dobson who found out my background told me they were very short of specialists in this field and wanted to know whether I would consider a teaching post? Liz got me the Dean's address and made me promise that I forwarded my CV without fail. Thanks to Liz, I not only became a lecturer at West Herts College but received 2004's Business Enterprise Award for the best Lecturer.
Q. Coming from a rural environmental background in Sri Lanka you have certainly become highly successful in the sophisticated world in the West and today recognised as a top academic in the UK. How did you make it to the top?
A. I am very fortunate to have had the rural roots and Colombo education. The initial training was given by our unique parents to suit any universal environment.
Q. You have a very impressive CV. Can we talk about your recent EMBA (Executive Master of Business Administration)?
A. I studied at the University of Hertfordshire, Business School and completed 12 modules within 18 months on a part-time basis, and it took me a further year to complete my dissertation.
Q. You have published a report recently, what was your project and in aid of what ?
A. The County of Hertfordshire, where I live at present, is endowed with an excellent infrastructure. It has an ideal business location, which attracts diverse global, national, regional and local businesses. My aim was to contribute to that community. The project was titled "Investigating Skills Gaps in Dacorum's Business Community" which was carried out in partnership with my local District Council, Dacorum and West Herts College. It was based on a questionnaire sent to 2000 businesses in the Dacorum Borough Council area, which investigated the potential skills and training that were required for business development in the community. In my report I made recommendations for skills development and it has already been used for bidding for funding and training for the Burough.
Q. You have been appointed as an Advanced Practitioner at West Herts. College, What does that title mean?
A The appointment was made in recognition with my contribution to teaching and learning. I simply means a Senior Lecturer.
Q So, as a Buddhist who believes in Karmic effect (Law of cause and effect) do you think it has something to do with your positive karma in a previous birth that you have risen to this level in this life?
A I certainly have been very fortunate to have been born into a noble family. My husband Kalu, and our three most wonderful children Samitha, Samali & Dasal support me fully in every respect. May be I have brought forward a certain amount of positive karma but certainly I am accruing my good karma in this life by making an impact on so many others' lives and by providing a good career path for them and arousing their refractive potential to better themselves in life.
Q What special qualities or charisma helped you to outshine many other professionals of equal or even with higher qualifications in this country in becoming a Lecturer in Accounting and Business Studies at West Herts. College in Hertfordshire?
A. Perhaps it was my first experience in accounting studies! I deliver teaching in a diversified form which is " all in one session". It consists of a lecture, seminar/discussion, practice and tutorial. I integrate my industrial and real life experiences into teaching to make it relevant and interesting for students to learn. We all know that a thorough understanding, revision, mock papers, tutorials are the key factors to success in exams. I prepare students by covering the full syllabus and when they come to the exams, the question paper becomes reasonably easy for them. I also evaluate each course at the end of every session and students are prompted to provide feedbacks for development. I also use that as an action plan for the next round of course delivery.
I am also a 'hands on practitioner' providing accounting, business solutions and trouble shooting for Small to Medium size Enterprises. Trico International Shipping Ltd, Sen & Co Solicitors, Blue Skies Nursery and companies in London and Hertfordshire receive my services. My accounting and accounting software-training services are provided to corporate customers such as Dixons Plc, voluntary organizations, SMEs (Small to Medium size Enterprises ) and individuals.
Q. You have so much to give back to your mother country where you were given a free education in the first place to reach out to this level in an advanced society. Have you not ever thought of giving back your knowledge and services to your mother country as part of your gratitude on being so academically successful in the UK?
A. I do not think I can ever re-pay enough to my parents or my mother country. I keep in contact with my hometown and help as much as I can. I like to have more involvement with Sri Lanka and I am planning to live in Sri Lanka as soon as my children are independent.
Q On March 25th 2004 you received The Business Enterprise Award - the Best Lecturer 2004. Simultaneously your employer West Herts College was also awarded the Top College of 2004 because of your excellence . How do you feel about these achievements and is there any message for the others?
A. Have your aims simple. In my case, My aim is to help individuals, the business community as well as my employer, who provides me with my daily bed and butter, to achieve the best results. It is really gratifying to be appreciated and recognised at the end of the day.
I would also like to send a message to the individuals at large and that is the good work one puts in at home and to the community will always be recognised sooner rather than later. We must all aspire to achieve our best for our families, employers, our community as well as to ourselves.