CONGRATULATIONS! LANKAL VITHTHI
by Tilak S. Fernando in London
---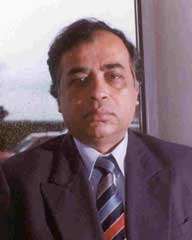 Seven years ago on a Sinhala New Year's day the Sri Lankan community in the UK was presented with a valuable 'Avurudu gift' in the form of a Sinhala News paper -. Lanka Viththi.
Lanka Viththi created history by being the first ever Sinhala newspaper published outside Sri Lanka and filling the conspicuous vacuum that existed among the vast expatriate communities scattered all over the world today. Moving with the times, it entered the World Wide Web within a very short period, remarkably with Sinhala fonts, where readers could access this Sinhala gem through computers from the luxury of their homes. It was a dream of Daya Ananda Ranasinghe, the editor of Lanka Viththi that came into fruition after many years of contemplation and determination.
To publish a newspaper in the UK is not an easy task, the nucleus of which is the much-demanded capital. To take the responsibility in such a yeoman task it requires not only absolute dedication but a tremendous risk and commitment too, especially when one has to stand on one's own feet (like in the case of Daya Ananda Ranasinghe) and to see its smooth uninterrupted operation. To this end congratulations should also go to the contributors of various articles and poems from all parts of the world.
Thankfully there are still dedicated compatriots in the UK who are national minded and who value their culture and their language. In this respect Daya was fortunate to have a closely associated team in London to give him a helping hand in executing this arduous task.
The success of Lanka Viththi (as the only Sinhala newspaper printed and distributed from London) can only been by its successful completion of uninterrupted publication over seven years amidst numerous ethnic newspapers in variety of languages, including 15 Tamil Language newspapers and journals, which are printed and distributed in the UK today.
Daya Ananda Ranasinghe's resolve to sustain Sinhala language from its fast approaching extinction and aiming at promoting the Sinhala culture and heritage among the expatriate Sinhala diaspora living in the UK and other parts of the world has paid off to his credit. Today, as Lanka Viththi is celebrating its 7th Anniversary, Daya Ananada Ranasinghe is a proud journalist and unique editor, who is reaping the benefits out of his dedicated hard work. Lanka Viththi which started with a few hundred copies seven years ago now prints 3500 copies and distributed to other countries such as France, Italy, Sweden, USA, Latin America, Australia, Middle East and of course the mother land, Sri Lanka.
Its concept of attempting to maintain harmony in the Sri Lankan society, with a prime aim of developing the intellect of Sri Lankans as well as acting as a guiding shaft of light to the young children of Sri Lankan parents, has been to educate the community in multiple ways and to show the right path to lead a peaceful life as good citizens wherever they live.
Daya Ananda Ranasinghe needs no formal introduction as the Editor of Lanka Viththi. He has served as a journalist for many leading newspaper groups in Sri Lanka and has bagged more than 30 years of journalistic experience. He is a renowned poet and a lyrics writer in Sinhala songs as well as a scriptwriter for Sinhala films. In 1982 Daya Ananda won the best creative scriptwriter of the year OCIC Award in Colombo for his film Adhistanana (Determination) that represented Sri Lanka in the Film Festival in Manheim, Germany.
Could it be that film script' Determination' which became ingrown in his system to bring out a Sinhala newspaper from a foreign land? It's food for thought. Daya Ananda has been living in the UK for 26 years and currently he is working on his 2nd anthology of poetry, a novel and a translation of a collection of short stories.
Congratulations Lanka Viththi, Congratulation Daya Ananda.