Standing ovation for GSB Rani and Ishaq Baig in London
by Tilak S. Fernando in London
---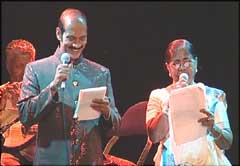 Camden Centre walls in London nearly bust in its seams with vibrations of high pitched singing and music when a fully packed audience responded and rejoiced themselves with clapping, in keeping with the music, when GSB Rani Perera, a household name in Sinhala popular classics started singing in London. 'GSB Rani' has delighted Sinhala music lovers with unforgettable melodies over the radio and on the silver screen for sixty long years and this was her first stage show in London.
The vacuum left by the late Mohideen Baig, the maestro in Sinhala singing, with whom GSB Rani had sung many a popular duet songs was filled on this occasion by young Ishaq Baig, the son of Modhideen Baig, who also faced a London audience for the first time. The duo was instrumentally supported by Wijeratne Ratnayake on tabla, D. D.Gunasena on violin, Jagath Wickremasinghe on key board and Hemapala Perera on the flute and mandolin.
The programme, 'Swarna Gee' ( Golden Hits), was a musical show - a fund raising exercise-organised by Hela Sarana, a UK Government approved Charity, registered under 1093504 to raise funds ' to continue with their charity work with Sri Lanka.
GSB Rani has had a spanning singing career in Sri Lanka for the past sixty years. During this period she has not only entertained music lovers but, as a programme producer of the Sri Lanka Broadcasting Corporation, introduced many new comers to the industry such as Edward Jayakody, Victor Ratnayake etc., who have become icons today among music lovers.
In February 2004 she celebrated her 60th anniversary of her singing career from the Bandaranaike Memorial Hall with a grand musical show titled ' Parama Ramani'. GSB Rani was a typical confirmation of the saying which goes as :' It's not the chronological age that counts but the functional age' when she appeared on stage, still locking quite robust for her age as she is approaching her 75th birthday.
For sixty long years, the quality of GSB Rani's singing and her voice has not changed an iota and it took me instantly back to the days when I used to listen her songs as a young school boy in my shorts. When she sang high pitched songs her voiced resonated and vibrated and reached every heart of the audience. During her non stop twenty songs, a mixture of melodies, duets and high pitched solos, one had only to close one's eyes and one could hear only the vibrant voice of a young teenage girl of eighteen, signing ' Bandi Preme Tharan Helu Kandulu Mum' 'Parama Ramani Ape Aale`, 'Pem Pahana Nivi', Devinde aatha Samana', Sara Lanka - Sara Lanka' etc.
It was equally a rare occasion and a unique opportunity in London to see her singing duet songs with the son of one of her old singing buddies, late Mohideen Baig. Replacing the vacuum left in the industry by his father's sudden death, Ishaq Baig has been pushed into the scene automatically to take the reigns from where his father left at. Ishaq Baig's voice is rich and powerful. It sounds like Mohideen Baig's young voice but certainly at times it over powered even his father's pitch when he sang songs such as ' Ma ya, Ma ya', Buddan Saranam Gachchami, Suwende mada seethala Sulanga pawa'
'Hela Sarana' founded in 1996 by a group of friends initially has come a long way within eight years. Its philosophy has been not merely to dish out money, food and clothing to the poor in Sri Lanka but to work in a constructive model by being objective and far reaching. In that sense Hela Sarana strategy has been not to concentrate on short term aid but to sponsor income generating projects of value which are beneficial to poor villages in a long term basis where they could improve their living standards themselves after giving the initial ' push'. In this respect Hela Sarana has been investing on projects such as Education to poor children, Housing as a priority, Health Care and Orphan sponsorships etc.
During the show the audience saw a video clip which gave a glimpse of what Hela Sarana Charity has done so far in Sri Lanka. Starting from scholarship to Thanthirimale poor students, the charity continues to fund extra on tuition classes for 40 GCSC students for Science, Mathematics and English. 5 students out of the Hela Sarana educational programme have been selected for university education while most of the other students have passed exams with excellent marks.
Under their Health and Welfare programme Hela Sarana has contributed Rs.100,000 towards the extension of a building in Badulla (Eye Department) to facilitate corneal grafting to help blind people regain their sight.
Thalassaemia is an inherited blood disorder. Those who suffer from the disease have a short life span. Hela Sarana has donated £500 to help build a day centre at Badulla General Hospital to cater for the needs of Thalassaemia patients.
Another vital area that has not been overlooked by Hela Sarana was to rush aid and help to 100,000 people who became homeless from the devastating floods which took place in May 2003 affecting Ratnapure, Galle and Matara and claiming 500 lives.
Out of their Orphan Sponsorship appeal Hela Sarana has raised an impressive £600 and at the end of 2002 funds have gone to ' Shastrodaya Padanama', an orphanage at Ratnapure to renovate the library building.
Their other achievements include building of a new junior school at Ohengama, Polonnarua, Supply of educational Material to Kadurwela Maha Viyalala, Polonnaruwa and the continuation of tuition classes at Thanthirimalaya.
One of Hela Sarana's huge projects launched in 2003 was to work on a 50 acre Agricultural Farm which is crucial for the survival of the villagers in Thanthirimale who had no regular income. The project has been designed to carry out in stages. Ten acres have been already worked on and 43 families have been so far permanently settled. Out of these presently 10 families are fully engaged in cultivating cash crops in the new farm land.
Among the proposed future projects Hela Sarana has pencilled the following:
Continuation and monitoring of the first 10 acre farm development of the 1st stage mentioned above.
Building of a gravity fed water supply scheme at Gallala village.
Constructing the flood damaged cold-water storage tank at Godigama vidyalaya
Village development and rehabilitation in Vavniya (Acharantalawa, Track 07. Palai Uruwa and Rankethgama.
Launching scholarships
Flood affected school building project at Matara District
Provision of medical equipment to Karapitiya Hospital, Galle
Supply of low electricity to rural villages (in partnership with Perera Development corporation- Canada).
Hela Sarana selects projects and assesses them at their regular committee meetings. The projects which benefit larger community get priority. To keep control of projects, schemes are planned and carried out stage-by-stage, and administrative and other overheads are kept to a minimum, often met by committee members 'dipping into their own pockets'.
Their first public fund raising event was 'Amara Gee' (Amaradeva Concert) which was a huge success. It drew a large crowd to the same venue - Camden Centre. Swarna Gee with GSB Rani and Isha Baig was their second attempt which was equally a successful event.
Hela Sarana says that all their project work has been done with the continuous support given to them by the Sri Lankan expatriate community in the UK, and their future work is entirely dependent on the financial support they receive. Anyone who is interested to know more about the work and aims of Hela Sarana or wish to be a partner with them to help the poor and the needy in Sri Lanka, could either write to them at 55, Herent Drive, Clayhall, Gants Hill, Ilford Essex, IG5 OHE or e-mail to : helasarana@hotmail.com.