LONDON ARTISTES EXCEL
by Christie Weeratunge – London Journalist
---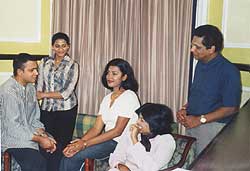 Highly rated tele-drama Pushparagaya reached its peak in TV ratings at second place with its last episode on ITN shown on the 16th January this year. Excellent performances by London actors and beautiful London locations contributed to its high popularity TV ratings. From episode one till the last episode TV viewer ratings had remained in third and fourth places while it had gone up to the second place at the end. At a survey conducted by the Sunday Times Magazine it said that 'audiences were kept glued to their television sets through the seventeen episode showing.
Pushparagaya, Sriyani Amarasena's third successive production contained all the ingredients such as suspense, gossip and beautiful locations with the added bonus of excellent performances by London Artistes. Despite the presence of another tele drama filmed in London being shown on Rupavahini at the same time Pushparagaya sustained its popularity. Prominent Srilankan journalist and editor of the Sinhala tabloid 'Tharunaya', Rodney Vidana Pathirana commented that 'in addition to our local stars like Sriyani Amarasena and Robin Fernando the contributions made by London Artistes were fantastic'. Also Mr Vidana Pathirana directed the award winning tele drama 'Hemanthaye Vasanthayak'.
The story line of the Pushparagaya tele drama was based on a necklace and ancestral gem past down the line in the 'Siriwardana Walawwa' family which goes missing during a surprise birthday party hosted by Thelma (Sriyani Amarasena) to her lawyer husband Claude Siriwardana (Robin Fernando) at their residence. During the party Srilankan band (Ronald Williams Combo well known for Sinhala , English and Hindi music entertainment) plays while their manager Keerthi (Tilak Fernando) dances with Thelma. Next day Thelma discovers that his necklace is missing. Without informing her husband she undertakes to conduct her own investigation indiscreetly with the help of Anil Wanigasekara ( Wimal Alahakoon) a diplomat at the Srilankan High Commission to try to approach Keerthi about it.
In a bid to solve the mystery of the lost necklace Thelma and Keerthi become friends. Keerthi offers to drive Thelma to a jeweller in Oxford to get an exact replica of the necklace to substitute for the lost one and solve the mystery. On their way back to London Keith's car meet with an accident. Confusion reigns. News of the accident drives Claude to believe that Thelma is having an affair with Keerthi. Rubbing salt to injury, Keerthis living together partner (Lilani Perera) on hearing about the accident throws him out of the house and the melodrama develops.
While these things are taking place Anil Wanigasekara is given and assignment by a friend in Harispattuwa to find his long lost twin daughters (double acting by Diana Samanmali) and his wife (Karuna Bodhinayake) who had abandoned him years ago but believed to be living in the west at present. Claude in the meantime returns to Srilanka angry with suspicion. Thelma is shocked and tries to contact him on phone and later takes a flight to Colombo. Thelma is not allowed to meet Claude by his sister-in-law. In despair Thelma hands over the necklace to Claude and returns to London. While everyone is jumping into conclusions, everything gets sorted out and Keerthis name is cleared. Anil manages to bring the twin daughters to their parents. Claude who has not being well recovers with Ayurvedic treatment and returns to London for a happy ending. The story ends when both realizing their misunderstandings all along and finally settle their differences by hugging each other and offering a nice bouquet of flowers in a London park..
One of the main reasons why Pushparagaya attracted mass audience was the superb filming of attractive locations including a vineyard in Kent by art director and locations manager Kanthi Alhakoon. The surprise nature and normal gossip made the story more interesting and intrigue to watch. This was the first time in a tele drama that a single camera has been used to film a double acting sequence on a single frame for which the credit goes to cameraman Saman Sigera.
To say the least, most of the London based actors cannot be categorised as amateurs. Wimal Alahakoon is the Sumathi Award Winner 2003 for 'Hemanthaye Vasanthayak'. Tilak Fernado, well known journalist and writer has to its credit acted in various roles since his debut in London's Tricycle Theatre on stage in 1980's playing the role of a beggar in Prof. Ediriweera Sarathchandra's 'Elowa gihin melowa ava' and 'Rattaran'. Since then in Namel Weeramuni's 'Golubirinda', and GDL Perera's 'Ratagiya Aththo'. Lilani Perera, co-producer showed enormous talents through her long years of drama and radio experience by living her character. Karuna Bodhinayake trained in Haywood under Panibaratha has played the role of Kaluhamy in 'Elowa gihin melowa ava' in Colombo as well as in Tricycle Theatre in London and Gunasena Galapatthi's 'Muhudu Puttu'. Among others who took part are one time queen of stage Prema Ganegoda, Kanthi Alahakoon, Ramesh Ekanayake, Dinesh Esky, Himangali Nanayakkara, Punya and Rashika Weerasinghe and Ronald Williams. In-door filming of Pushparagaya was mostly done at Ashbourne Hotel in London, courtesy of its General Manager, Punya Weerasinghe.
Maureen Charuni, one of the most popular Srilankan actresses commented on Pushaparagaya : "Every Saturday evening my day stops at 7.30 pm to watch Pushparagaya tele-drama. The excitement grew week after week and the end was memorable. I recorded whole of the episodes and want to watch it again and again in one go. I was so taken up by the beautiful locations in London where the drama was based'.