FACE 2 FACE With Dr. Buddhadasa Bodhinayake
by Tilak S. Fernando in London
---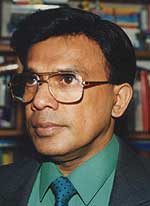 Dr. Buddhadasa Bodhinayake has been a household name all over Sri Lanka. Hailing from a suburban Sinhala family background in Bentota and guided by his father, a Head Master of a Sinhala School, he has blossomed as an outstanding personality from his student days at the Ananda College to become a man of the world. It would not be a false statement to say that any newspaper or magazine column is insufficient to record the versatility and enormity of this Sri Lankan's accomplishments.
During his Secondary education at Ananda College, Dr.Bodhinayake has held every responsible position as a student - from Senior Prefect, President, Literary Union Leader in English and Sinhala debating teams simultaneously, a record which has not been broken so far at Ananda College. He was the winner of junior senior, open college oratorical championships and essay awards and remains to-date as the only Anandian on record to have won 5 all-Ceylon essay competitions including the Rotary (International), 2 all-Ceylon Oratorical championships (Radio Ceylon) and UNO Day God Medal.
Having graduated in 1969 from the Faculty of Medicine, Colombo, he served under Mr. P.R.Anthoniz, founder President of Ceylon College of Surgeons and Prof. M.H.M.Hamza, Consultant Paediatritician at Lady Ridgeway Hospital. He published papers on Anorexia Nervosa and Adolescent Medicine in Sri Lanka (1975-80 UNESCO publication), chaired the first UNESCO 14 member international symposium on health and acted as Chairman of the State Advisory Board on Scientific literature in Sri Lanka. He was the youngest Asian to have won a UNESCO award for original scientific writing in 1966.
Dr Bodhinayake joined the National Health Service, UK in 1975 and trained on the Royal Free-University College Frien rotation and became Registrar to Prof. G.F.M.Russell and Tony Wakeling. Subsequently worked as Senior Registrar on St, Bartholomew's North Middlesex Warley rotation. He was appointed as Consultant Psychiatrist in early 1980 and in 1985 received his formal recognition by the Royal College of Psychiatrists as a Clinical Tutor. As a postgraduate clinical tutor in Barking & Brentwood he was twice (formally) congratulated by the Dean of the Royal College of Psychiatrists. He conducted more than nine annual symposia in Psychiatry, trained over 120 post graduate trainees during a period of 12 years and earned his Fellowship of The Royal College of Psychiatrists in 1990. On early retirement he was honoured by having conferred on him the Emeritus Status at North East London Mental Health Trust. Dr.Bodhinyake is the only Sri Lankan who currently serves on the Editorial Board of the famed International review journal 'Hospital Medicine', formerly known as the British Journal of Hospital Medicine.
Q. Where were you educated in Sri Lanka?
A. I was born in Bentota and had my primary education at Hungantota Government School and Aluthgama Vidyalaya and subsequently at Ananda College, Colombo from my eleventh year.
Q. What made you decide on medicine? Did your parents influence you and made the choice for you?
A. No. It was always my one pointed ambition to be a student of psychiatry. To achieve that goal the only possible way, I thought, was to first qualify as a doctor and subsequently specialise in psychiatry. With that as a backdrop and with intensive research I published the first book in Sri Lanka on psychology of children called 'Daruwage Heti Therum Ganna (Know your child). I qualified as a junior paediatrician and was very interested in Anorexia Nervosa. When I came to the UK I was very fortunate in being selected as a trainee for The Royal Free-University College- Frien rotation which included Royal Free Anorexia Nervosa Unit. It was world famous and was headed by Professor Gerald Russell whose registrar I became less than a year. Prof. Russell became almost the last word in British psychiatry later when he became professor at the Maudsley Hospital. Here I must acknowledge the help I had from Dr. Doris Hollander, my first teacher in British psychiatry.
Q. Who influenced you to come to London for your post-graduate studies?
A. Sir (those days Dr.) Arthur C. Clarke. He not only advised, persuaded and encouraged me to go to London but, offered me several valuable books and accommodation in his London house where his brother Fred lived. I knew Sir Arthur for some time in Sri Lanka and he and I had jointly authored Sri Lanka's first book on Space titled 'OBA Vannek Handata Yai (someone like you will go to the Moon) in 1961).
Q. I understand that you were on a razor-edge situation after completing your Internship (pre-registration) as a doctor in Sri Lanka . What was it all about?
A. I was going through my Internship under the supervision of Dr. P.R.Anthoniz, and Prof. M.H.M. Hamza when I contracted hepatitis. Consequently the President of the Ceylon Medical Council extended my internship although in my view I was entitled to medical leave. The hospital clerk who dealt with the subject overlooked my signing of some official papers, which I too completely forgot. On graduating as a doctor, I happily went home to Bentota . On my return to Colombo the Clerk made me sign the papers. The President of the Medical Council ruled out that my Internship was invalid merely because I had not put my signature on a particular piece of paper..
Q. What happened then?
A. Both Dr. Anthoniz and Prof. Hamza strongly supported me officially while the President of the Medical Council turned a Nelsonian eye to the issue. Furthermore, it was highlighted in several editorials of the Ceylon Daily News in support of my case and even the Judiciary took the view that the signing of the papers was only a formality! The Late Dr. R.B.Lenora offered all expenses if my case went to High Court and Mr. S. Nadesan Q.C., very generously gave free legal advice! But the President of The Medical Council was adamant and completely turned a blind eye to the problem and wanted to penalise me.
Q. How did you overcome the problem?
A, In sheer frustration I told the President of the Medical Council that 'even if I had to sell newspapers on the Colombo pavement I was not going to repeat my internship' because I had already completed it and the signing of an isolated paper was only a formality when my work had been accepted in the hospitals as well as by the Courts. The Medical Council President's words were that, " only 'Parliament can change the Law young man and this is the Law of the Medical Council!" I reacted to that by telling him : " Sir ! we will have to change the Parliament then, haven't we"? and walked out of his room. Later I got involved in background politics, forgetting medicine momentarily which, I am happy to say, helped me to make a significant contribution towards the 1970 general election in Sri Lanka by forming a special organisation called Sinhala Tharuna Sanvidhanaya (Sinhala Youth Organisation), the purpose of which was to purely have a change of government and for Sri Lanka Freedom Party to form a new government.
Q. Quite interesting and daring I must say for a young Sri Lankan youth to be so bold and stand up to a bigwig in that manner in such an environment. So how did you join the background political world?
A. I had quite a backing from the pre-university youth during my medical student days because I formed the first Sinhala Students' Union (Tri Sinhala Sisva Sanvidhanaya) under the guidance of Ven. Baddegama Wimalawansa Anunayake Thero at the Sri Lanka Vidyalaya at Ode Temple, Maradana to fight against ragging. When I entered the Medical Faculty I was properly ragged, which made me fight tooth and nail against it as I thought it was such a sadistic practice to traumatise newcomers both physically and mentally. I was the first medical student to stand against such ragging single handed which, of course, became very mild and non effective in the subsequent years. When the internship battle was brewing I contacted Dr. Sivali Ratwatte, the brother of Mrs. Sirimavo Bandaranaike, whom I personally knew through Mr. Sepala Gunasena, Chairman, Independent Newspapers (Dawasa Group). Dr.Ratwatte took me to Mrs. Bandaranaike and introduced me to her and. I can still remember Mrs. Bandaranayake asking me, a straight question: " Dr. Bodhi, do you think you could galvanize the youth into action in such a short time to support the SLFP in the forthcoming elections?" I said, 'yes ma'm' although there was only a breathing space left. I immediately collected support from the youth, the national newspapers, some bhikku and Sinhala organisations and formed a powerful socio-political-wing of the SLFP called the Sinhala Taruna Sanvidhanaya (STS) and did an effective campaign with Dr. Sivali Ratwatte as the leader of our organisation. Our main aim was to elect a SLFP government under Mrs. Sirimavo Bandaranayake in 1970 . Some members of the STS like Nimal Siripala de Silva later became powerful Ministers in the SLFP and PA governments thereon and played quite prominent roles in Sri Lankan politics.
Q. And what happened to your registration after the internship? You should have ended up as the Minister of Youth Affairs in the SLFP Administration!
A. Mrs. Bandaranayake in fact acknowledged the hard work I did and wanted to know what I wanted, but I made a simple request from the new government, just to accept my internship and register me as a doctor, which the Minister of Health Mr. W.P.G. Ariyadasa did immediately under the advice of the attorney general.
Q. And what was the response from the President of the Ceylon Medical Council?
A. I reported back to him and said, " Sir, since you said you could not change the Parliamentary Regulations, we had to change the Parliament instead "! I continued working as a medical doctor and later Mrs. Bandaranayake elected me to the National Youth Council. At the same time the governor general Sir William Gopollawa elected me to the Three Member National Advisory Board of the Government to deal with the applications made by 18,000 detainees of the 1970 JVP insurrection. The other two members were Mr. D.W. Abeykoon, who later became chairman of the Bar Council and Mr.A.J.Rajasooriya, Head of the CID. Our function was to study the appeals, listen to the detainees and speak for the innocence and their defence most of the time.
Q. What was your involvement in the UNESCO in 1975?
A. I was invited to the UNESCO's first Health Symposium on Rational Social Uses of Health Resources held in Milan and was elected as the Chairman. This stunned me because I was the youngest in the group with least years of experience in the field, but the organising committee decided that I was still suitable to chair the symposium.
Q. What was your role as a medical man in the UK. ?
A. I joined the National Health Service, UK in 1975, trained in Psychological Medicine and became Registrar to Professor G.F.M.Russell and Prof. Tony Wakeling. Subsequently I became Senior Registrar on St. Bartholomew's, North Middlesex, Warley rotation until 1980. Later I became the Associate Director of Postgraduate Education in Psychological Medicine covering Barking, Havering and Brentwood district. In 1990 I became a Fellow of The Royal College of Psychiatrists and received the Distinction Award for meritorious work in Health by the National Health Services in the UK in 1992.
Q. I have read about your adaptation of meditation in your psychiatric work quite a lot. Would you like to expand on this?
A. In my psychiatric lectures I always made reference to meditation for over 20 years in the UK. I had to put into practice meditation as a therapy for my patients as meditation can be beneficial to any one.
Q. How did the Psychiatrists take it? Was it acceptable to them?
A. At the beginning it became a sort of a joke for discussion. Some laughed at the use of meditation in psychiatry because, no doubt, at initial stages it was seen as an alien topic. But with the passage of time it became acceptable with more and more applications coming out in the world and medical press about the advantages of meditation in the practice of psychiatric medicine.
Q. Digressing form psychiatry for a moment, can I go into various other facets of talent within you? You were a broadcaster, journalist as well as a well-known writer too. How did you cope with such a complicated portfolio while being a medical man?
A. I started writing in Sinhala when I was 7 years old. My first article was titled "Paropakaraya" (helping fellow human beings) in the Sinhala Jathiya newspaper. .Karunaratne Abeysekera, a leading light those days, helped me in broadcasting by making me a junior broadcaster in his children's platform, 'Lama Mandapaya' programme. So did his brother Gunaratne Abeysekera who was an eminent TV personality.
Q. How many broadcasts have you done?
A. Over some 25 years I have done 3-4 programmes a week sometimes. All in all it would have exceeded a thousand broadcasts over the years.
Q. Don't you hold another distinctive record in broadcasting by giving a ball-by-ball cricket commentary in Sinhala through the Radio Ceylon?
A. Yes, in fact it was considered hilarious. While I was a student at Ananda College I approached Mr. Ronnie de Mel, the then Director of Broadcasting, and suggested the idea to him. He took it very seriously, but none of the announcers was willing to help me and I was pushed into a corner when Mr. Del Mel asked me whether I could do it on my own.! I took up the challenge and did it from the Colombo Oval Cricket grounds for six long hours burning in the hot sun.
Q. If we talk about your medical writing?
A. Yes, I did write many articles on popular medicine and popular science subjects. Particularly with my association with Sir Arthur C. Clarke, I introduced space in a formal way than it had been done before. Sir Arthur was a world-renowned writer when I was reading my ABC in writing. So he helped me enormously by allowing me to join with him in writing and broadcasting. The inspiration he gave me was over whelmingly helpful at times when publishing became more than a difficult task in Sri Lanka.
Q. How about the Vidya science Magazine that you published in Sri Lanka?
A. It was something which I take pride in because for over 25 years it continued unabated. I read the first science magazine in Sri Lanka published by Dr. E.W.Adikaram (Naveena Vidya) as a student in the village community council (Prajamandalaya). When I entered the medical faculty I had the opportunity to start on Vidya, the monthly publication incorporating medicine and science. Among many who helped me in this endeavour were my brother Dhanasiri Bodhinayake, Tusitha Malalasekera, Prof. Tuley de Silva, Prof. Carlo Fonseka, Prof. Nandadasa Kodagoda, Prof. Kithsiri Samaranayake, Prof. Ariyaratne Balasuriya and the vice principal of Ananda Mr. C.M. Weeraratne. The heaviest weight of the magazine fell on my fiancÚ at the time Karuna Ramanayake who did a gigantic work spending long hours at the Press as well as at home in the field of management and distribution of the magazine.
Q. Any special moments of your life, which you think, has made an indelible memory?
A. The greatest honour I had in my life as an Anandian was the invitation by my alma mater in 1993 as the Chief Guest of their prize giving where I made a one and half hour speech which was later printed and distributed among all students of the College. The audience itself comprised some 2000 students, teachers, old boys, parents and other distinguished visitors.
Q. Your life story indicated that you gave your first public speech in support of the Swabhasha (National language) struggle when you were just 15 years old and later roamed the length and breadth of Sri Lanka making speeches with the Sinhala Jathika Sangamaya. Who inspired you to do this?
A. Muhandiram Mullepitiye K.H. De Silva who was a great Sinhala poet and a family friend introduced me to most venerable Henpitagedara Piyananda Maha Thero and most venerable Baddegama Wimalawansa Anunayake Thero who were the heads of Ode Temple at Maradana. They were my Sinhala teachers and they inspired me to join the National Struggle to gain appropriate status for the Sinhala language.
Q. Who inspired you most clinically ?
A Prof. K. Rajasooriya taught me to think straight, Prof. C.C.de Silva inculcated in us the love and care for children, Prof. Priyani de Soyza was a walking text book, Dr. P.R.Anthoniz showed the younger generations a path to emulate and Dr. H.H.R Samarasinghe was an overall great inspirer in every field
Q. Finally, do you have any regrets in your life?
A. Yes. Even as a Psychiatrist I can't escape the fact that I was not able to see the equivalent of my godfather Mr.H.R.Premartne, one time Director of Public Works, who gave me free board and lodging at Colombo 7 to pass the medical entrance examination when I had failed once owing to my excessive extra curricular activities. On the week he fell ill I was in Colombo and he wanted me to go and see him in Kandy. But most unfortunately my own mother was seriously ill on that day and was in a pre-comatose state owing to lowering of blood sugar and I could not make the trip to Kandy leaving my mother behind. What was even more unfortunate was my return trip to London had been arranged (having cancelled several times before) the next day which meant if I did not catch that flight I could have lost my job! I deeply feel that circumstances made me fail in my duty to see the man who paved the way to become a doctor when the winds were strongly against me!