WIMAL ALAHAKOON BECOMES VENERABLE MUGALAN
by Tilak S. Fernando in London
---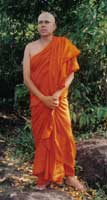 He was a professional, popular personality, accepted by the society as a compassionate human being who wanted to alleviate sufferings of others. He was a happily married family man with all the creature comforts in life. He was not a politician and did not like politics of any kind, but the present day politics in his country made him depressed. One single politician, who did not like his face, managed to ruin his entire life for no fault of his. He was set up by this politician, picked up by his thugs and battered severely in an exercise of vendetta. He was later framed as a drug dealer and imprisoned showing the muscle of political power on the innocent. All this made him depressed and wanted to find the true meaning of human existence in this life. One day, like a bolt from the blue, he threw the towel in and took up robes and became Ven Mugalan and decided to confine himself into a cave at the Ingiriya Ashramaya spend his time on meditation. That was in celluloid form but in real life Wimal Alahakoon had to play the role of three characters - as a Medical Consultant, Prisoner and Buddhist monk - in one of his latest cine-films called Gini Veluma ( Inferno) which has finished shooting in Sri Lanka.
Wimal Alahakoon, Managing Director of a construction company in the UK, who turned to acting from Sriyani Amarasena's first tele drama, filmed in London, Ira Bata Tharuwa, has been climbing up in the Sri Lankan cinematic world at rocket speed to stardom within a matter of 2-3 years and, most importantly with two performances. In his second performance, Sriyani Amarasena's 2nd teledrama filmed in London, Hemanthaye Wasanthayak, he became the recipient of the first Sumathi Award conferred to an actor living outside Sri Lanka for the Doctor/father role he played. Undoubtedly it could he regarded as his greatest achievement in his very short cinematic career so far.
Wimal playing the role of First Secretary of the Sri Lanka High Commission, London is scheduled to televised through the ITN channel from 20 September 2003. This was Sriyani Amarasena's third tele drama production in London, Pushparagaya,.
He says, Giniveluma was a different kettle of fish altogether for him which has given a wider space to extract his refracted talents and to reflect through the camera to the audiences by doing three roles, Surgeon, prisoner and Buddhist monk. He has many interesting experiences to relate while doing the role of the prisoner at Welikade prison intermingling with the real prisoners. He says it was quite an experience when it came to the Buddhist priest's role which was done like in a real case of becoming a monk! Apart from a violent fight with a gang of thugs in one or two scenes, which he considers as an additional bonus of performing , what needed more adjustment, he says, was to behave, talk and walk and behave in that short spell like a real pious Buddhist monk.. Gini Veluma was written, directed and produced by Arthur U. Amarasena and other main thespians in the film are Sriyani Amarasena, Ravindra Randeniya, Cleetus Mendis, Chaturika Peiris & Nilanthi Dias.
During his short visit to Sri Lanka for Gini Veluma shooting Wimal was invited to play the part of a University Professor who goes to Sri Lanka from England to sort out some family problems, but falls instead into a deep unexpected mess. The film is called HIMA PIYALI, which is based on a story published in Tharunaya Newspaper. Wimal here again plays the main role with Maureen Charuni, Amarasiri Kalansuriya and Jayantha Bopearachchi. Film is directed by Rodeny Widanpathirana.
Born to Head Teacher parents (both mother and father) and bread in Kegalle, Wimal Alahakoon came to England in 1976 after secondary education in Sri Lanka and qualified as a Chartered Surveyor. After working for many years as a Chartered Surveyor, now he enjoys a prestigious status of being a Managing Director of a Construction Company. Married to Kanthi he has fathered two sons, Dhilum and Julian both of whom have graduated from the University; Dhilum as a scientist and Julian as a lawyer.
Wimal was the youngest in the family of three and lost his father when he was at the age of 7. Since then his mother became the whole world to him and was very close to her until she too passed away at the age of 84. Wimal says his mother was extremely fond of Sinhala films and had she been living today, I am sure it would have given her greatest happiness to her Badapissa's (full stop!) talents. Wimal has no enemies in real life or in the silver screen and he is a lovable fellow who is very pleasing to talk to. When asked, he told me in lighter vein that may be it was his mother's quality that he has inherited! Who could argue with that? We in Sri Lanka say mothers are solely responsible for turning or churning young boys and girls into men and women!
Wimal lost his only brother at the age of 44 from heart failure and all he has left in this world in his family is his sister Latha Alahakoon who lives in Kegalle. Wimal is very fond of his sister and always acknowledges at every occasion that she is more than a mother to him and he always has her blessings for his acting career. To him that sense of feeling goes as a blessing to turn into a serious character actor.
What are his future ambitions in life? I posed this vital question to him. Wimal would say that his sons are now settling down in life as professionals, he is planning to place a solid anchor to his own professional activities, (meaning retirement), and to spend the rest of his life in a more relaxed manner so that he could spend more time on things that he most enjoys i.e.: cinematic creations. Does he have any plans up his sleeve? Yes, indeed, although he has no intention of becoming a full time actor but his particular interest would be towards the production of films. He has a dream to produce a film involving artistes from Sri Lanka and England and says providence permitting it may take place towards the end of next year.