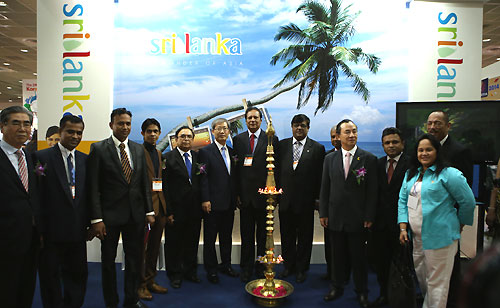 Sri Lanka won the "Best Booth Design Award" at the 29th Korean World Travel Fair (KOTFA), the largest travel exposition held at the Convention & Exhibition Center (COEX) between 29 May, 2014 and 1 June, 2014. KOTFA is an integrated travel fair involving inbound and outbound travel, B2B and B2C meetings, tourism presentations, and special sale offers for travel products.
All major tourist destinations including Thailand, India, China, Japan, Malaysia and the Philippines, represented at the fair. As Korea's largest fair, KOTFA involves the participation of more than 60 countries and more than 120,000 visitors with travel-related interests. Among these visitors, around 15,000 were from the tourism industry and over 100,000 were members of the general public seeking information about potential travel destinations.
Among the attendees were also representatives from the Sri Lanka Tourism bureau and Sri Lankan travel companies including Andrew the Travel Company, Ceylon Roots, Jet Wing Travels, N'KAR Travels, Serendib Holidays (Pvt) Ltd, World Travel Center Colombo (Pvt) Ltd, Aitken Spence Travel, Royal Holiday, Karusan Travel, Air Wing Tours (Pvt) Ltd, and HAWK travels.
These companies successfully conducted one-to-one business meetings with many Korean tour operators and met with travel industry professionals, buyers and specialists and travel consumers for business talks and negotiations.
Sri Lanka's presence was felt strongly since the opening day of the fair with organization assistance by the Embassy of Sri Lanka in Korea in association with the Sri Lanka Tourism Promotion Bureau. Its high profile opening ceremony was held on May 29th with the participation of Sri Lanka's Ambassador to Seoul, Tissa Wijeratne.
The Sri Lanka Pavilion was ceremonially opened by Ambassador Tissa Wijeratne alongside the Vice Minister of Culture, Sports and Tourism of Korea, Chairman of the KOTFA and other dignitaries in the Korean tourism industry.
During his address, Ambassador Wijeratne noted the travel fair will expand trade, enhance diplomacy, broaden cultural understanding, enhance people-to-people relations and deepen the friendship that binds South Korea and Sri Lanka.
The Sri Lanka Pavilion was set up in a strategic location by the Embassy of Sri Lanka in Seoul. The Pavilion featured high quality visuals of popular destinations and portrayed the island's tourism themes, which earned high praise from visitors leading to a win for KOTFA's Best Booth Design Award.
Free cups of Ceylon tea were available to the pavilion visitors, along with fun games and opportunities to win gifts, with participation in a Sri Lanka tourism survey.
In 2013, Korean tourist arrivals in Sri Lanka markedly increased by 50% compared to 2012. With the establishment of direct air links between the two countries along with other tourism promotional initiatives and events such as KOTFA, a significant increase in Korean tourists to Sri Lanka for 2014 is expected.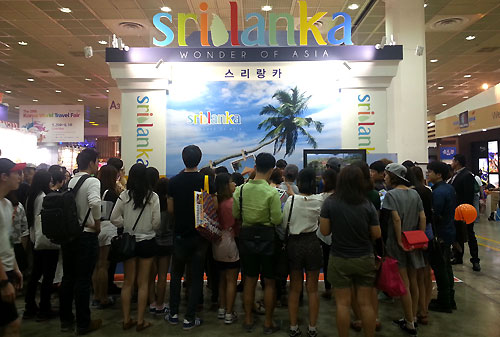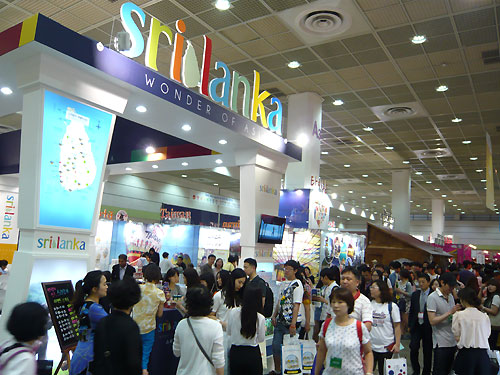 comments powered by