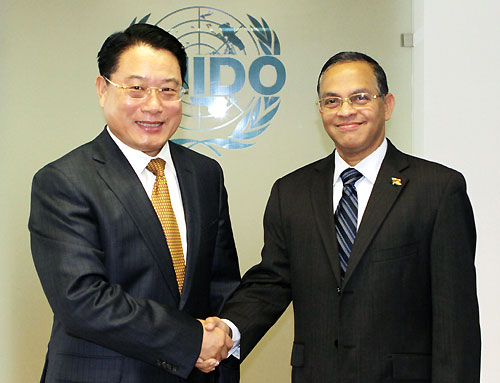 Ambassador A. L. A. Azeez, Permanent Representative of Sri Lanka was elected the Chair of the Multilateral Diplomatic Committee (MDC) during its 7th meeting held in Vienna yesterday. The MDC was established by the United Nations Industrial Development Organization (UNIDO), in 1991.
The Permanent Representative of Nigeria Ambassador Abel A. Ayoko was elected its Vice-Chair.
The MDC is composed of two members from each geographic region, which together represent the general membership of the UNIDO. The MCD was constituted by UNIDO on 24 May 1991, pursuant to Resolution GC.14/Res.7, to address matters falling within the framework of Articles X and XI of the Headquarters Agreement. The Committee, which was reconstituted in 2012, was headed by the Permanent Representative of Norway in 2013 until the election of Ambassador Azeez.
The Committee currently consists of Ecuador, Egypt, Iran, Nicaragua, Nigeria, Poland, Russian Federation, Turkey and Sri Lanka. Ambassador Azeez is also the Chairman of the Vienna Chapter of the Group of 77 and China.
Meeting Ambassador Azeez at his office today, UNIDO Director General LI Yong congratulated him on his election and commended Sri Lanka for assuming leadership on behalf of developing countries within the United Nations system.
The Director General also Ambassador Azeez of the continued cooperation and support of UNIDO.
comments powered by