The snow covered freezing temperature in Ottawa, did not deter the large expatriate Sri Lankan community and other special guests who attended the 66th Anniversary of Sri Lanka's National Day celebrations held on 9th February organized by the Sri Lanka High Commission in Ottawa at the prestigious National Library & Archives Auditorium.

Following the hoisting of the National flag and other items in the official programme, Ms. Deborah Chatsis, Director, South Asia Relations, Department of Foreign Affairs, Trade and Development Canada conveyed greetings of the Government of Canada to the Sri Lanka National Day. Dr Peter Meincke, President of the Ottawa Branch of the Royal Commonwealth Society of Canada spoke of the importance of the Commonwealth links and congratulated Sri Lanka on assuming the Chairmanship of the Commonwealth in November 2013.

The High Commissioner Chitranganee Wagiswara in her address spoke of many achievements Sri Lanka has gained over the last 66 years on the one hand, and, on the other, the recent challenges faced due to outside forces and influences. Quoting from the H.E. the President's Address to the Nation on 4th February 2014 , she spoke of the importance of holding on to positive and good memories which "should be etched in stone". She called upon the expatriate Sri Lankan community to be united as they could be a positive factor and contribute towards the well being of their motherland.

The evenings programme included cultural items performed by the children and artistes living in Ottawa .A significant aspect of this year's National Day celebration was the screening of the award winning film Viragaya directed by the renowned film director Dr. Tissa Abeysekera.

The evening ended with a reception hosted by the High Commission for nearly 400 participants.

On 4th February 2014, a short Official Flag Hoisting Ceremony was also held at the Official Residence, to commemorate the National Day. It was followed by multi-faith religious observances with the participation of the members of the Staff of the High Commission and Office Bearers of the Sri Lankan Associations in Ottawa.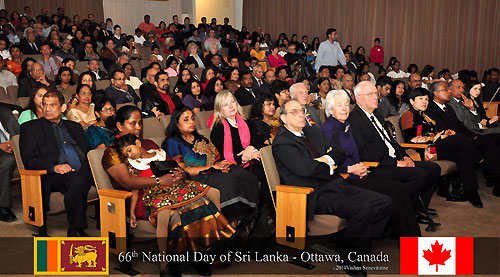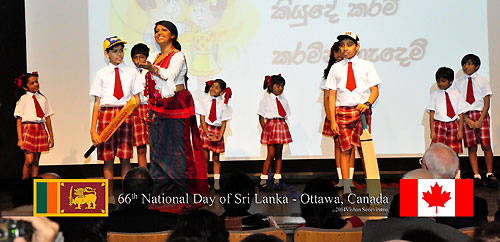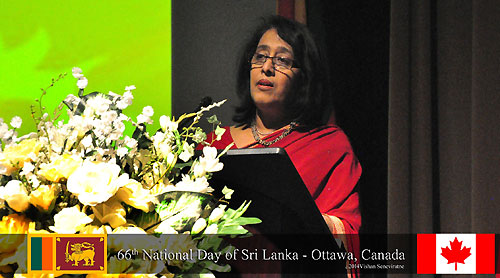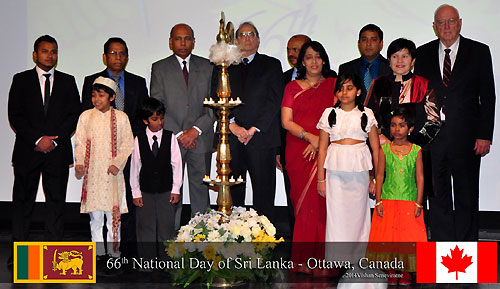 comments powered by