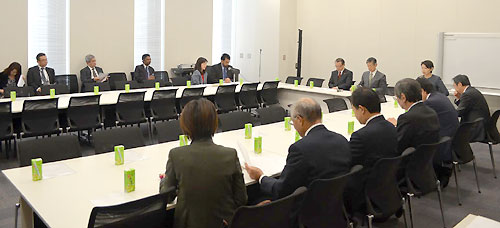 The Japan-Sri Lanka Parliamentary League conducted its General Meeting at the Diet [Parliamentarians] Members Office Building on 4th December, 2013. Approximately, 30 Members of Japan-Sri Lanka Parliamentary League, both from the House of Councillors [Upper House] and from the House of Representatives [Lower House], were present at the Meeting. The League has a total number of 81 Members consisting of 53 Members from the ruling Liberal Democratic Party [LDP], 17 from the main Opposition Party, Democratic Party of Japan [DPJ] and from other political parties.
The key objectives of the Parliamentary League are to strengthen and to deepen the relations between the two countries, in all spheres, and to promote friendship and culture, thus mutually benefitting both the countries. For record, during the official visit of His Excellency Mahinda Rajapaksa, President of Sri Lanka, to Japan in last March, a Breakfast Meeting was hosted to the Members of the Japan-Sri Lanka Parliamentary League.
At the General Meeting, Hon. Masahiko Komura, Vice President of the LDP and former Minister of Foreign Affairs, was formally confirmed, as the President of the League. Hon. Mdm. Yuko Obuchi, former Minister and the daughter of former Prime Minister Hon. Keizo Obuchi, functions as the Secretary-General and as Chief Secretary of the Parliamentary League in 1982. Her father, Hon. Keizo Obuchi, was instrumental in forming the Japan-Sri Lanka Parliamentary League. The Board Members of the Parliamentary League consists of senior Political figures and former Ministers of the Government of Japan. Hon. Komura, President of the League, in his opening remarks, underlined the importance and significance of the Parliamentary League and thanked the members and Admiral Wasantha Karannagoda, Ambassador of Sri Lanka to Japan, for being present at the General Meeting.
Ambassador Admiral Karannagoda highlighted that Japan has been extending Overseas Development Assistance [ODA] to Sri Lanka since 1954. The ODA, which has markedly enhanced during the last couple of years, has significantly contributed to the economic and social advancement and progression of Sri Lanka. Ambassador Admiral Karannagoda emphasized the opportunities in maritime cooperation between the two countries and a number of Parliamentarian Members of the League spoke, with gratitude, the support extended at the San Francisco Peace Conference and during the Tsunami of 2011. The Secretary-General, Hon. Mdm. Obuchi, stated that the Members of the Parliamentary League wishes to visit Sri Lanka at a mutually convenient period, probably, in May or in August of next year.
comments powered by