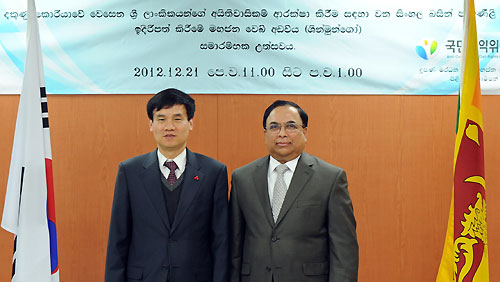 The Embassy of Sri Lanka in Seoul celebrated the launch of the e-People service in Sinhala on 21st December 2012. The Korean Anti-Corruption and Civil Rights Commission (ACRC) offers an online web service named e-People, Korea's major online communication channel between the government and the people, which gathers civil complaints, petitions and suggestions for the Korean government. With the addition of an online petition and discussion portal in the Sinhala language, the ACRC hopes to help Sri Lankans residing in Korea to submit complaints and comments to the government in their native language.
This act is a significant way forward to minimize barriers to communication between the government and citizens, especially for the 23,000 Sri Lankans living in Korea who may feel language as an issue that prevents them from articulating their opinions and concerns. Earlier, issues and concerns may have remain unresolved or had to go through a complicated procedure due to language barriers.
Ambassador Tissa Wijeratne mentioned that "during my one and half years as an ambassador, I have lent an ear to stories of Sri Lankan workers…today's launching of the Sinhala language service will be a great advantage, especially for Sri Lankans migrant workers in Korea to submit their grievances to the Korean Government authorities in their mother tongue, which will promote understanding and trust."
The e-People service will further build a more open and friendly society between the Korean government and Sri Lankans and strengthen the relations between the two countries. The ACRC Chairman Lee Sung-bo at the Ceremony stated that "We pledge to make consistent efforts to build clean and transparent nation in which everyone has equal rights and opportunities…I hope this will improve the brotherly relationship between the two nations."
Civil petitions or complaints can be filed by logging on to the e-People website (www.epeople.go.kr) and clicking on the Sri Lankan flag icon.
comments powered by