Sri Lanka's leading Ayurvada Company Siddhalepa opened their 4th centre in Germany in the capital city Berlin last Tuesday the 14th May. The ayurvedic centre is situated in the 4 Star Centrovital hotel in the suburbs of Berlin Spandau, situated directly in Lake Spandau.

The new Siddhalepa centre has an authentic Sri Lankan atmosphere. It is furnished with traditional handcrafted itmes from Sri Lanka and the colour scheme is based on soothing Ayuvedic tones. The decor on the whole has a classical Sri Lankan touch.

Like in other Siddhalepa Ayurveda centers in Germany, a German speaking Ayurvedic specialist and two therapists from Sri Lanka will offer 20 different treatments at the Berlin centre. All ayurvedic products used in these treatment are produced to time tested Siddhalepa recipes and to strict EU standards.

Speaking at the opening, Chief Guest Ambassador of Sri Lanka to Germany, Mr. Sarath Kongahage said Sri Lanka has a long histry of over 500 years in Ayurveda and the tradition of the Hettigoga family owners of Siddhalepa goes back 200 years. He said the father of the present chairman of Hettigoda Industries, Dr. Victor Hettigoda, was a famous "Vedamahathaya" (Ayurvedic Doctor) and well known astrologer in Sri Lanka, who has written books on astrology. The Ambassador further stated that Siddhalepa is a household name in Sri Lanka known even to a small child. Ambassador also mentioned that he is pleased that Siddhalepa is in the forefront of promoting Sri Lankan Ayurveda in Europe.

Explaining the reason for collaborating with Siddhalepa, Centrovital Hotel, Managing Director Jürgen Goerissen said "With the Siddhalepa Ayurveda Center, we are expanding our holistic therapies to promote the health and well-being of our international guests by leaps and bounds!"

About 200 curious and interested guests attended the opening ceremony in Hotel Centrovital and delved into the world of Sri Lankan Ayurveda. All guests were treated to traditional Kiribath (Milk Rice), Aryuvedic Teas, Arishta and Ayurvedic finger foods.

According to Chalinda Samarasinghe, Siddhalepa managing director in Germany, the company has a total of 7 Siddhalepa Ayurveda Centres in Europe.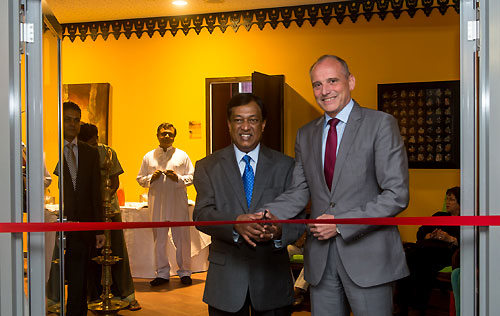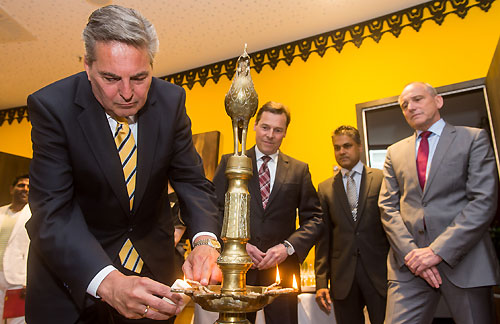 comments powered by