The Embassy of Sri Lanka in Seoul conducted ten (10) Consular & Labour Mobile Services during the months of April and May 2013, for the benefit of Sri Lankan citizens living and employed in South Korea. The mobile services were conducted in parallel with New Year celebrations organized by Sri Lankan associations in South Korea. The Embassy held ten (10) mobile services in the cities of Anseong, Daegu, Ulsan, Uijeongbu, Busan, Gwangju, Cheonan, Paju, Gunsan, and Gimhae.

In addition to general consular services, such as issuance/renewal of passports, registration of births/death/marriages, and authentication of documents including driving licenses, consent letters, signing of affidavits and power of attorneys, these mobile services are expected to provide the Sri Lankan community with labour related assistance including settlement of industrial disputes and labour related grievances, and attending to issues of compensations and wages, changing workplace, visa extension and immigration regulations.

These mobile service gatherings also provide a prime opportunity for the Embassy to meet and address the Sri Lankan community and migrant workers in particular matters of managing finance, organizing personal and social lives, and helping workers integrate into Korean society by teaching them about the Korean culture and its norms. Simultaneously, arrangements have been made to discuss and educate the Sri Lankan community about the latest immigration regulations and labour policies which are introduced on a regular basis by the Korean government. The Mission also takes measures to educate the public on Korean legal regulations in connection with criminal and illegal crimes in order to prevent any involvement in such activities.

The services offered by the Embassy at various cities in South Korea have proven to be a success and are tremendously supported by Sri Lankan associations and friendship organisations in South Korea. Sri Lankan migrant workers also highly commend the mobile services for its convenience and efforts to educate and update them on new and current policies and regulations in Korea.

The Mission believes that interactions of this spirit will pave the way for fostering friendship between the Embassy and the Sri Lankan community as well as Korean friends of Sri Lanka, including volunteer and cultural associations, Korean employers, government, immigration, labour, and migrant welfare authorities, the police, and overall, the Korean people. The success of these events will continue to improve future efforts to help Sri Lankan citizens in South Korea.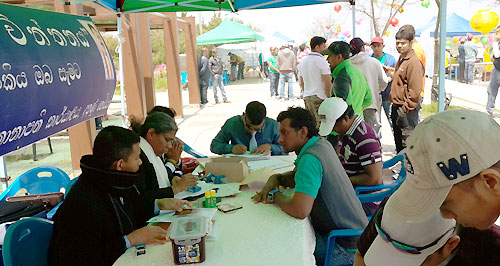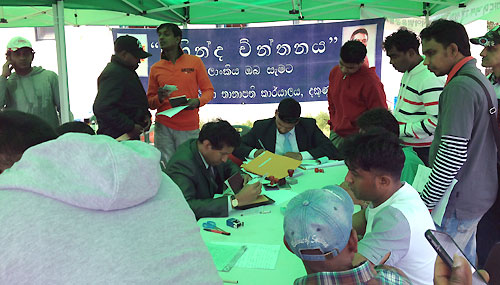 comments powered by