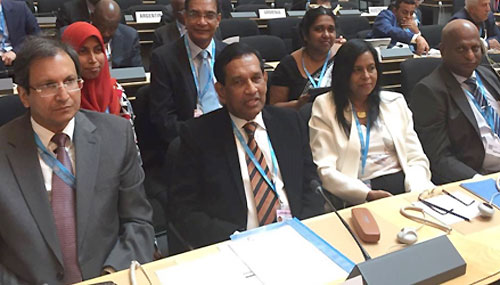 Minister of Health, Nutrition and Indigenous Medicine Dr. Rajitha Senaratne addressing the 70th World Health Assembly (WHA) meeting in Geneva on Tuesday (23 May 2017) said that the "Sri Lanka has achieved much progress in health care delivery due to cost-efficient use of resources and the coordinated use of its well ingrained primary, secondary and tertiary health care facilities".
The Minister who is leading the Sri Lanka delegation to the ongoing 70th World Health Assembly also updated the Assembly on the progressive action taken by the Government in combatting Noncommunicable diseases (NCDs), such as introducing 80% pictorial warning on tobacco, increase of tobacco tax to 90%, introduction of a 'traffic light labelling system' to control sugar in fizzy drinks. On communicable diseases, he highlighted on Sri Lanka's achievement of gaining WHO certification of Malaria elimination. He, however noted the recent epidemic challenges faced by the country on Dengue and H1N1 and called for increased partnership in addressing those challenges.
Earlier this week (21st May), Minister Senaratne also addressed the Commonwealth Health Ministers Meeting outlining Sri Lanka's successes in the health sector which were commended by the Health Ministers present at the meeting. The Commonwealth Secretary General, Patricia Scotland praised Sri Lanka on its higher quality outcome achieved at a minimum cost, and indicated that this is a model that could be replicated across the Commonwealth. She made these remarks during a bilateral meeting with Minister Senaratne, and requested Sri Lanka to consider leading within the Commonwealth on digital –health.
To celebrate the success of WHO certification of elimination of Malaria, Sri Lanka together with the Maldives and the Regional Office of the WHO in New Delhi organized a special event on 22nd May on the sidelines of the 70th WHA in Geneva which was graced by Dr. Margeret Chan, the Director General of the WHO.
The Minister also met with the World Bank Representatives to discuss potential cooperation in the areas of establishing additional Accident and Emergency Care Centers, design and implement the 'family physician' concept, and to expand the currently launched 'Lifestyle Health Centers' throughout the country.
Sri Lanka's Permanent Representative to the United Nations in Geneva Ambassador Ravinatha Aryasinha, Dr. P. Sathyalingam -Provincial Minister of Health, Nutrition and Indigenous Medicine of Northern Province, and other senior officials of the Ministry of Health, Nutrition and Indigenous Medicine and the staff of the Permanent Mission of Sri Lanka in Geneva were associated with the Minister during these meetings.
Full text of the Statement by Hon. Minister at the 70th WHA:
Plenary Theme: Building Better Systems for Health in the Age of Sustainable Development
Address by Hon. Dr Rajitha Senaratne, Minister of Health, Nutrition and Indigenous Medicine of the Democratic Socialist Republic of Sri Lanka
Madam Director General, Excellencies, ladies and gentlemen,
At the outset, let me put on record our sincere appreciation of the leadership of Dr. Margret Chan, Director-General WHO in moving forward untiringly the WHO mandate in shaping global health over the years.
In promoting sustainable development, I believe, it is important to prioritize access over quality. Access requires bringing facilities close to people, eliminating user fees as far as possible when providing services; Control inputs and focus accountability on outputs.
My country's current expenditure on health is 1.6% of GDP. We hope to increase this to 4% by 2020. This is a big challenge for a country in the process of rebuilding after a 30 year civil conflict. In spite of these limitations, I am happy to report that Sri Lanka has achieved much progress in health care delivery due to cost-efficient use of resources and the coordinated use of its well ingrained primary, secondary and tertiary health care facilities.
At this point, I want to recall what I said last year at this same venue justifying Sri Lanka's eligibility for WHO certification as a malaria free country. This year, I announce with a sense of humility that Sri Lanka received WHO certification that Sri Lanka eliminated malaria, a disease which caused death and misery to hundreds of thousands over the years. Yet we cannot be complacent with this achievement, sustaining it will be an important task.
Though we have been successful in containing many communicable diseases, the recent epidemic of Dengue and H1N1 in my country has warned us of our vulnerability for epidemics. As such, I believe that reaching the SDG targets may need much more technical and other resource inputs, improved efficiency, significant health sector reforms and more international collaboration.
Madam Director General, Ladies and Gentlemen,
As we all know that illness may drive people into a vicious cycle of poverty due to costs involved, and a country to lower productivity. As a measure of financial risk protection of the vulnerable groups, my Ministry took several important interventions over the last two-years. These include fixing of maximum retail prices for 48 most commonly used drugs, cataract lenses, cardiac stents and anticancer drugs, which are provided free for patients seeking treatment at government hospitals. The lab facilities in government hospitals were upgraded to enable handling large volumes, so that the patients get almost all their investigations and lab analysis done in the hospitals speedily. All these measures are expected to reduce the out of pocket expenditure of the patients – leaving no one behind!
Ladies and gentlemen
Even though Sri Lanka was the first country in the South East Asian region to sign Framework Convention of Tobacco Control (FCTC), tobacco smoking continues to be a big health challenge in my country. In spite of the strong opposition from the tobacco industry, thanks to the strong political will, we were able to take certain decisive steps such as banning of smoking in public places, making 80% pictorial warning on cigarette packs mandatory, hiking the tobacco taxation from 70% to 90%, new moves towards plain packaging and eventually moving away from tobacco cultivation. I am happy to say, for the first time in Sri Lanka, the treasury has reported less income from tobacco this year despite general increases in tax collection across the board. This shows that we are gaining success in controlling tobacco use.
Our strategy in controlling sugar in fizzy drinks through labelling indicating levels of sugar through a Traffic Light Labelling system was highly appreciated by our people. We hope to add salt and trans-fats too to the list. Meanwhile, we have set up nearly 940 Healthy Lifestyle Centers island wide to provide screening for cardiovascular diseases, Diabetes, and Cancers etc. among categories at risk and also to promote healthy behaviour among the public – an important component of our fight against growing challenge of NCDs. Meanwhile, I want to reiterate my last year's appeal for research partnership in finding a cause for Chronic Kidney Disease of unknown etiology (CKDu), a serious public health problem in Sri Lanka.
Today we are living in a global village. We need to pay much attention to the health of migrants, irrespective of their migration status and origin. I am pleased to announce that Sri Lanka hosted the second Global Consultation on Health of Migrants, emphasizing our political commitment to this important issue as captured in the Colombo Declaration.
I believe, delivery of health in this age of sustainable development needs fresh thinking by policy-makers, critical evaluation of the achievements and challenges in attaining universal health coverage and achieving sustainable development goals for health. We also believe it is important for the public and politicians to set overall goals on costs, access, minimum services, to reach universal health access to our people.
Finally, let me acknowledge the strong support and partnership we have received from the World Health Organization over the years, and convey a special word of thanks to you, Madam Director General, and to Dr. Poonam Singh the Regional Director for South Asia, and for the Sri Lanka country office. We look forward to continuing this strong partnership in the years ahead.
Thank you.
comments powered by