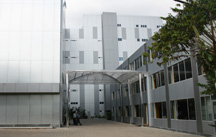 Oct 9 (IL) Orion City, an IT Service Park, a private sector venture, located in the heart of Colombo will be the next big step in the Sri Lankan IT infrastructure development managed by St Anthony's Industries Group (Private) Ltd.
The Orion City is located next to the Baseline Road (Dr. Danister de Silva Mawatha) Colombo 9. With an estimated 4 million square feet to be developed in the 13 acre site within the next 10 years, Orion offers its tenants an ideal place to grow. It is a hassle free environment with ancillary and support services taken care of. Currently approx. 250,000 square feet have been developed.
Orion City is being built to work as a self contained city with modern facilities such as gymnasiums, shopping malls, swimming pools, food courts and in-house parking facilities etc where the employees of companies who have located themselves in the IT Service Park will be able to attend to their day to day family and personal requirements while working.
Other than providing IT facilitation to software development and BPO services companies, Orion City is also looking at the possibility of assisting and facilitating start-up companies by providing them with "incubation centres". The incubation centres will have all the necessary infrastructure facilities required to start an IT /BPO operation. The Orion City officials were inspired by this novel concept of incubation centre that is being utilized by STPI (Software Technology Parks of India), while they were attending an IT/BPO/KPO Investment Promotion Mission in India organized by the Board of Investment (BOI) and Information and Communication Technology Agency (ICTA) of Sri Lanka.
The BOI has identified the IT/BPO sector as one of the strategic growth areas and IT infrastructure as a primary area of focus. BOI is working to develop its own IT parks including the recently signed Private Public Partnership agreement with the Infinity Group of Companies in India to develop an IT park next to Sri Lanka Institute of Information and Technology (SLIIT) campus at Malabe where work is scheduled to start soon.
While commending the infrastructure initiatives of St Anthony's Industries Group, Mr. Dhammika Perera, Chairman / Director General of the BOI said "Orion City which is a BOI project fulfills the need for a private sector IT park in the heart of Colombo". He also said that the BOI is working closely with Orion City to identify potential investors in the areas of IT BPO and IT training.
Orion City is committed to increasing the pool of IT and BPO sector trained professionals in Sri Lanka by attracting training institutions for potential joint ventures. It is also willing to offer specialized training to BPO/KPO companies in the areas of accountancy process outsourcing, law process out sourcing etc.
According to Mr. Jeevan Gnanam, CEO of Orion Management Consortium, Orion City reflects the confidence of the St Anthony's Industries Group in the future potential of Sri Lanka's IT/BPO sector. Orion City is planning to build high end accommodation for overseas representatives who visit the city as this would be more cost effective and convenient than staying at a luxury hotel. Currently the phase two is underway due to the demand of many IT BPO companies. This is a scalable project to be completed in several phases based on the demand and the requirements of the anchored tenants, Mr. Gnanam said. Phase two will be completed with 1.5 mn square feet.
The establishment of Orion City is a vital part in the government's overall objective of developing the IT/BPO sector, Mr. Perera said. IT BPO exports which totaled US$ 275 million in 2006 are expected to reach US$ 2 billion by 2012. Recently a Presidential Task Force on IT and English has been established under the Chairmanship of Dr. Sarath Amunugama, Hon. Minister of Enterprise Development and Investment Promotion. The Task Force seeks to address sector related bottlenecks.
A part of Orion City is already occupied by Virtusa with 1200 employees earmarked and a few other companies are in discussions to move to the IT Park.