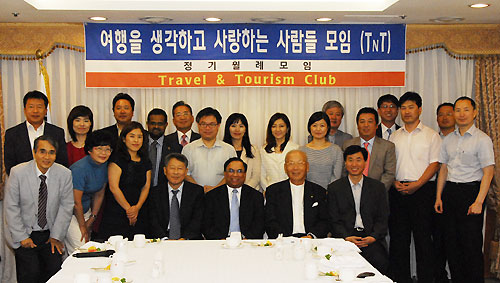 The Embassy of Sri Lanka in Korea in association with the Sri Lanka Tourism Promotion Bureau initiated a number of activities in the hopes of promoting Sri Lanka as a key tourist destination among Koreans.
On the 5th September 2012, the Ambassador accompanied by the Counsellor (Commercial) of the Mission met the Travel and Tourism Club (TNT Club), one of the prominent tourism clubs in Korea. TNT Club comprises of leading Korean Travel companies such as Hana, Mode etc. and travel media representatives along with other tourism related associations etc. They met at the President Hotel in Seoul to discuss the prospects of tourism that could attract Korean tourists to Sri Lanka.
A detailed presentation with attractive visuals and information covering the major tourist attractions in Sri Lanka along with other tourism-related details were presented to the members of the TNT Club. An interactive session followed which provided the members an opportunity to raise questions about Sri Lanka tourism which were subsequently answered by the Ambassador.
The members of the Club whom attended the event were fully convinced about the tourism prospects available in Sri Lanka. Furthermore, they welcomed the intended move to establish direct air links between Seoul and Colombo by both Sri Lankan Air Lines and Korean Air in the immediate future; this will be an essential prerequisite in promoting tourism. Members also expressed their willingness to work closely with the Embassy to promote Sri Lanka as an emerging new tourist destination among Koreans.
During the 7th to 10th September 2012, the Embassy participated in Korea's second largest tourism fair, the 15th Busan International Travel Fair (BITF), held in Busan, the second largest city in Korea after Seoul. All major tourist destinations in Asia including India, Malaysia, Thailand, Maldives, Philippines, China and Japan participated in the fair. More than 91,000 individuals visited during the four days of the fair which provided the Sri Lankan Embassy an opportunity to promote Sri Lanka among Korean tourists.
One Sri Lankan Tour operating company as well as a hotelier Connaissance de Ceylan participated in the fair from the tourism industry. The Sri Lankan company met a number of Korean tour operators who visited Sri Lanka's booth and held bilateral discussions aimed to establish commercial links that could attract Korean Tourists to visit Sri Lanka.