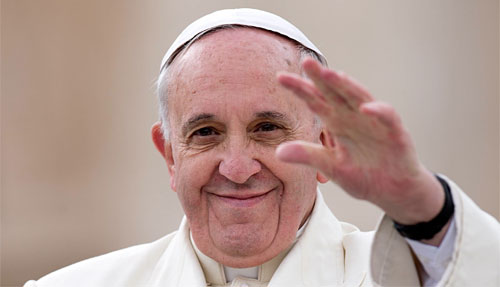 Pope Francis will visit Sri Lanka as planned because the Sri Lankan Government has not made any official announcement that it would hold a snap presidential election in January, the Catholic Church in Sri Lanka said yesterday. This official stand of the church has been communicated by the Apostolic Nuncio (Vatican representative in Sri Lanka) Archbishop Pierre Nguyen Van Tot who met representatives of the Lawyers for a Just Society in Colombo yesterday.
The Vatican official had also said it would be better that the papal visit should take place in January because the Pope would be visiting the country to canonize Blessed Joseph Vaz -- Sri Lanka's first Catholic Saint. Lawyers for a Just Society Convener Shiral Laktilake told Daily Mirror the Vatican representative had also requested the Lawyers Society to submit a detailed report on its opinion with regard to the papal visit.
The Lawyers for a Just Society had earlier requested the church not to allow any political party mainly the ruling party to use the Pope's visit for its political advantage. Meanwhile the church is already going ahead with preparations for the Pope's visit nearly all catholic bishops in Sri Lanka have been tasked with several responsibilities with regard to the papal visit.
Source: Daily Mirror - Sri Lanka
comments powered by Disqus