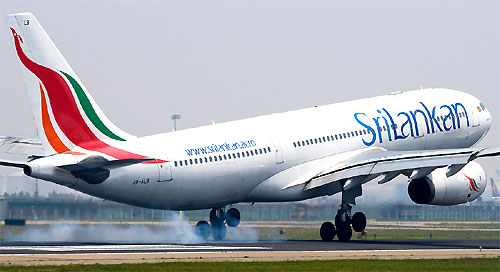 The Parliamentary Select Committee on Public Enterprises (COPE) had recommended that Mihin Lanka and the national carrier SriLankan Airlines be amalgamated and brought under one management, the Chairman of the Committee, Minister D. E. W. Gunasekera said yesterday.
The Minister told a media briefing that this recommendation had been made in COPE's interim report which was presented to Parliament last afternoon. Accordingly, the report said COPE had asked for a report within two months on the stand of the institution in relation to the matter and had recommended that the matter could be taken up at the consultative committee of the ministry.
The Minister further stated that Mihin Lanka had incurred losses mainly because the institution was made to borrow at high interest rates. He said the institution had been made to raise capital through borrowings.
"Mihin Lanka could be operated as a profit making venture and therefore has the potential to be converted into such a venture," he said.
Speaking generally on the COPE interim report, the Minister said its scope had been increased in relation to converting the public enterprises to be more vibrant. Accordingly, he said a feed back committee led by Minister of Disaster Management Mahinda Amaraweera had been appointed. This committee includes MPs Eran Wickramaratne and Dr. Rajeewa Wijesinghe. This committee he said would monitor whether the recommendations made by COPE are implemented or not.
Source: Daily Mirror - Sri Lanka
comments powered by Disqus