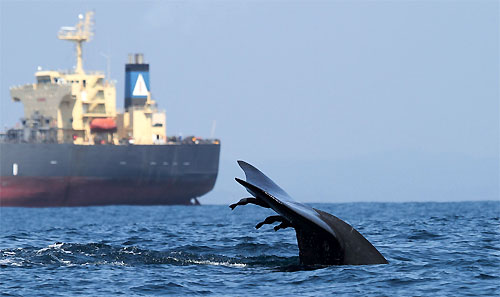 In the wake of five blue whales being killed after they were hit by ships, the Fisheries Ministry is consulting the relevant authorities to rearrange shipping route off Mirissa in the South, a deputy minister said last week .
In response to a question asked by United National Party (UNP) parliamentarian Ajith P. Perera, Deputy Fisheries Minister Sarath Gunaratne told Parliament that this sea area off Mirissa has been populated by blue whales, which are known to swim close to the surface of oceanic waters and risk being hit by passing ships.
Quoting details provided by National Aquatic Resources Research and Development Authority (NARA), the deputy minister said discussions were underway to see how the blue whales could be saved and one of the suggestions was the rearranging of the shipping route. "According to NARA, blue whales abound in sea waters some 10 to 15 kilometres off the southern coastal beld of Mirissa. Local and foreign tourists go out to sea on conducted whale-watching excursions to see them in their natural surroundings," he said.
Source: Daily Mirror - Sri Lanka
comments powered by Disqus