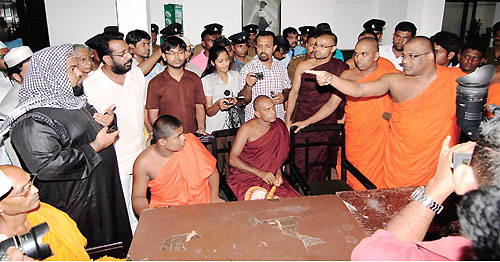 Prime Minister and Minister of Buddhist Affairs D.M. Jayaratne said the Sangha Kathikawatha (code of conduct for the Maha Sangha) would be presented to parliament to prevent any defamation of the Maha Sangha and to maintain its respect among the people at large.
The PM charged there were some who had donned robes who were bringing disrepute to the entire Maha Sangha.He said anyone could don robes and by so doing they were misusing the name of the Maha Sangha. He said he had the backing of President Mahinda Rajapaksa, the Mahanayake's and the Maha Sangha to bring the Sangha Kathikawatha to parliament and pass it into law.
The PM was speaking at the opening of a Dharma Salawa at Hurikaduwa Menikhinna, which was declared open by President Mahinda Rajapaksa. The Dharma Salawa, built at a cost of Rs. 120 million, commemorates Thelipahe Sri Seelawamsa Anunayake Thera of the Ramanya Nikaye.
The ceremonies were conducted under the auspices of the Mahanayake Thera of the Ramaniya Nikaye Ven. Napane Premasiri Thera.
Addressing those present, the Mahanayake said the foremost goal of the country should be to achieve unity among all, irrespective of class, creed, religion or cultural ideology, and this was the aim of the president.
Among those present were Central Province Governor Tikiri Kobbekaduwa, Chief Minister Sarath Ekanayake, Kandy Mayor Mahendra Ratwate and MP Lohan Ratwatte.
Source: Daily Mirror - Sri Lanka
comments powered by Disqus