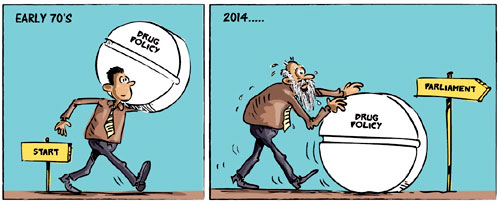 The draft Bill for the introduction of the National Medicinal Drugs Policy has been presented to the Cabinet of Ministers for consideration, Deputy Health Minister Lalith Dissanayake said yesterday. The policy, based on recommendations by Prof. Senaka Bibile, was approved by the Cabinet first in 2005.
Later, the Cabinet decided to draft a Bill to give legal effect to it. Subsequently, a team of officials was appointed to draft three different Bills to implement this policy.
However, these draft Bills disappeared mysteriously from the Legal Draftsman's Department. Later, Mr. Dissanayake said the Ministry took fresh initiatives to amalgamate these three Bills into one upon instruction by the Attorney General's Department. "The English version of the final has been presented to the Cabinet," he said.
The Deputy Minister gave these details to the House in response to a question by UNP MP Sajith Premadasa.
Mr. Premadasa charged that relevant experts in the field had not been consulted in drafting this Bill, and the Prof. Senaka Bibile Commemorative Committee raised concerns about it. However, Mr. Dissanayake, instead of giving a direct answer, said President Mahinda Rajapaksa had taken bold efforts to introduce this Policy, a task that could not be fulfilled by any successive leader during the past 40 years.
Mr. Premadasa also questioned about the shortage of essential drugs in the country, particularly for cancer patients. The Deputy Minister denied the existence of such a problem. The UNP MP confronted the Deputy Minister saying anybody could get his allegation verified by visiting the Maharagama cancer hospital at any time.
Source: Daily Mirror - Sri Lanka
comments powered by Disqus