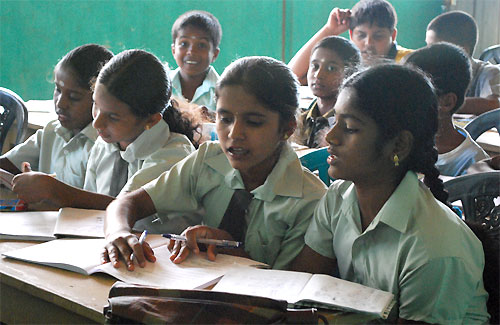 The Education Ministry has sought Cabinet approval to allocate 20 marks to students for their listening and spoken abilities of the English language at the G.C.E. Ordinary Level Examination from next year onwards, the Daily Mirror learns. The Ministry has taken a policy decision to conduct such a test along with the Ordinary Level Examination. Accordingly, the Ministry, in a Cabinet memorandum submitted recently, has sought approval to conduct the listening test in the examination centres on the same day after the written paper for the English language subject is conducted. It will be done according to a format prepared by a committee.
The spoken test will be conducted separately for each student after the final day of the Ordinary Level examination, or within three days depending on the number of candidates. Twenty marks will be awarded to students at both the tests.
Cabinet approval has been sought to make these two tests compulsory for the candidates sitting the exam. The results of absentees will be withheld.
The Ministry has asked for Rs.100 million to set up the necessary facilities at exam centres for this purpose. Besides, another Rs.21 million is sought to be allocated to the Department of Examination this year for preparatory activities.
The National Education Commission has recommended these two tests.
Source: Daily Mirror - Sri Lanka
comments powered by Disqus