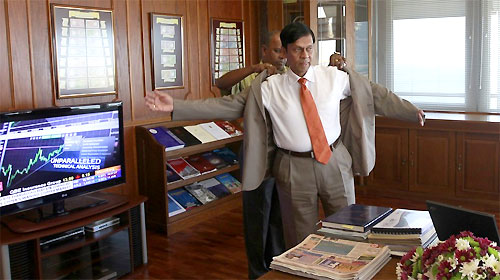 Sri Lanka's biggest social security fund, the Employees Provident Fund (EPF) had invested a massive Rs. 2,091 billion in 2011 and 2012 and these investments were safe and sound drawing a good return, Central Bank Governor Ajith Nivard Cabraal said yesterday.
He told the Daily Mirror that between 91% - 93% of the total investments were in Government Securities in the two corresponding years amounting to Rs.985,599 million in 2011 and Rs. 1,105,544 million in 2012. They were invested in government securities, Treasury Bonds and Treasury Bills which was extremely safe.
Other investments made with the EPF were in corporate Debentures amounting to 1% - 7% and in Equities ranging from 7.9% - 5%.
"All our investments have been made after a careful share market study and with transparency. In that sense no one can point the finger at us for unsound or unstable investments. We never forget the fact that we are dealing with the hard-earned savings of our private sector employees. We are also aware that the EPF savings are the only financial security they have at the time of their retirement. Whatever said and done to mislead the public and EPF members we have not invested a rupee in risky ventures," Mr. Cabraal stressed.
Mr. Cabraal pointed out that the investments in Reverse Repos had come into much criticism without studying the mode and use of Reverse Repos by many analysts.
"Firstly I must say that investments in Reverse Repos are less than 0.3% of the total investment of Rs. 3 billion. The EPF invests in Reverse Repos for its day-to-day requirements as the investment can redeem overnight, obtaining the existing daily interest. The Reverse Repos are invested with commercial banks and primary dealers in a full transparency," he added. Mr. Cabraal said the 2011 and 2012 annual reports have already been handed to Labour Minister Gamini Lokuge and the two annual reports will be submitted to the cabinet and Parliament detailing all information of South Asias biggest fund, the EPF with total assets exceeding Rs. 1.3 trillion shortly.
Source: Daily Mirror - Sri Lanka
comments powered by Disqus