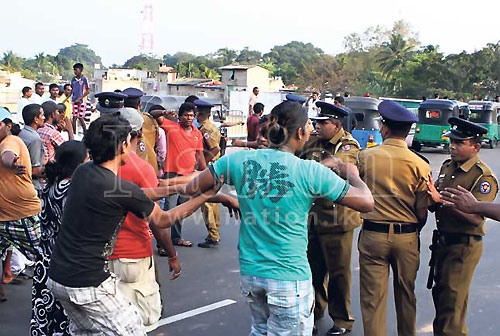 Colombo West DIG Anura Senanayake charged yesterday that Saturday's abduction of a person in Wanathamulla appeared to be a staged drama by two politicians from the JVP and the UNP. Mr. Senanayake said the sequent of politically motivated events that followed between the disappearances of this person and his sudden appearance bore the hallmarks of an act driven by political interests.
Therefore, he said he had received instructions from Defence Secretary Gotabaya Rajapaksa to conduct an impartial investigation to identify what happened to this person.
"This person purportedly disappeared at around 10 am on Sunday. Then, his daughter lodged a complaint with the police . After that, people suddenly took to the streets and staged a protest. We cannot condone it. How can they do it? They can only stage peaceful protests. Only that is allowed under the law. There was a violent protest led by politicians.," he said.
He said the disappeared person suddenly appeared and made a statement saying he was treated well and not robbed of his valuables. "That is the reason for us to suspect this incident. We will investigate and ascertain the truth," he said.
Police spokesman SSP Ajith Rohana said the abduction had taken place at 10.30 am, and the police complaint was lodged at 1.00 pm. However, he said the people in the area started demonstrations, burning tyres and blocking vehicular traffic at about 11.00 am. "It was a well-organized attempt. People have been instigated by someone," he said.
Source: Daily Mirror - Sri Lanka
comments powered by Disqus