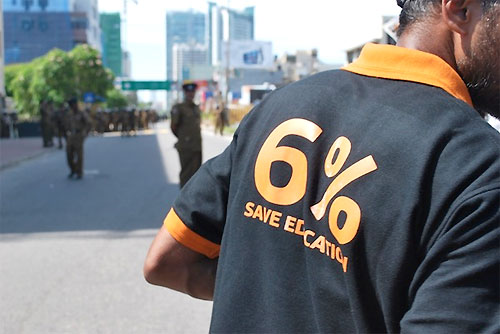 University academics yesterday vowed to revive their struggle for a 6% GDP allocation on the education sector and the rectification of their salary anomalies and announced the first phase in the series of awareness events would commence in Colombo, Matara, Peradeniya and Jaffna.
Addressing a media briefing at the Nawala Open University held yesterday to announce the new office bearers for 2014 and their future plans, Federation of University Teachers Association (FUTA) ex-President Dr. Nirmal Ranjith Dewasiri said they planned to initiate the preliminary activities to raise awareness targeting the Western and Southern provinces amidst the PC polls enthusiasm as they believe it would help them spread their message effectively to the masses.
"The public pay closer attention to current events of the country and are also more concerned of their grievances during election campaigning periods. We are hoping to exploit this opportunity in order to raise awareness on the importance of urging the government to increase the GDP allocation on the education sector up to 6% as well as concerning the salary issues of academics," he said. The awareness campaigns are due to be organized by universities in each area with the support of the National Steering Committee that includes undergraduates as well as teachers and principals. "We have not yet decided on the specifics of the union action but we will be launching them subsequent to the upcoming election campaigns," new FUTA President Dr. Chandraguptha Thenuwara said.
He said, "We will be continuing the union struggles that were led by Dr. Dewasiri and we are planning to increase public involvement in our campaigns as the deterioration of the education sector is an issue that would not just affect academics and students but also the parents of this country. We need to reassure to the public that we have not abandoned our struggle for the 6% GDP allocation for education and thereby revive the struggle to revive the deteriorating local education sector," he added.
Among the other newly elected FUTA Office Bearers were Dr. Rohan Fernando as the Secretary and Ven. Dambara Amila Thera as the media spokesman in addition to five Vice Presidents and three Assistant Secretaries.
Source: Daily Mirror - Sri Lanka
comments powered by Disqus