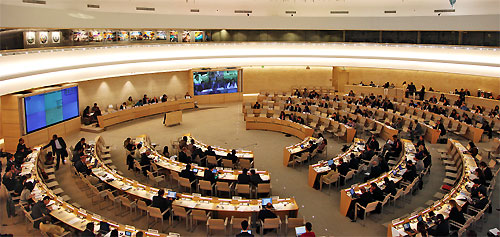 China will 'unswervingly' speak for Sri Lanka during the session of the United Nations Human Rights Council (UNHRC) in Geneva in March to uphold justice, Chinese Ambassador Wu Jianghao said.
In an email interview with Daily Mirror, the Ambassador said China recognised the progress achieved by the Sri Lankan government and its people in economic and social development after the 'internal conflict' ended. Reiterating that China and Sri Lanka are true friends, he said a friend in need is a friend indeed.
"We believe that Sri Lanka should be given more time and space to solve its problems by itself. In the days to come, we will continue to unswervingly speak for Sri Lanka at the UNHRC to uphold justice," he said.
Commenting on the proposed Free Trade Agreement (FTA) between China and Sri Lanka, he said the negotiations were progressing smoothly. "The two sides are now busy conducting the feasibility studies to make necessary preparation for negotiations. I am confident that the FTA will bring a win-win situation for both countries. The FTA will definitely benefit both sides; especially facilitate Sri Lanka's export to China. Bringing down stubborn tariff and non-tariff barriers to trade and investment could do a great deal to promote growth and employment in Sri Lanka," he said.
Source: Daily Mirror - Sri Lanka
comments powered by Disqus