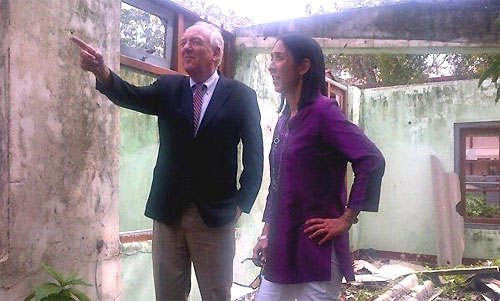 Following the controversial 'tweet' by the US Embassy in Colombo that hundreds of civilians were killed by the army during the last stages of the war, the government is to make representations to several heads of foreign governments on what it called a 'gross travesty of fairness', characterising the tweet, Daily Mirror learns.
Earlier a photo was posted on social media to the effect that US Ambassador to Sri Lanka Michele J. Sison and Ambassador-at-Large of the U.S. State Department for Global Criminal Justice Stephen John Rapp were on a visit to the North of Sri Lanka and that they had visited St. Anthony's Ground.
The Embassy of the United States of America, in its official twitter account, said that "St. Anthony's Ground was the site of the Jan 2009 killing of hundreds of families by army shelling."
However, the government of Sri Lanka says there was no absolute verifiable factual basis for such allegations. Therefore, it is learnt that External Affairs Minister Professor G. L. Peiris will make representations to the heads of states of other countries in this regard.
With regard to an alleged census carried out by Bishop of Mannar in 2008, the government said that it was not possible to carry out a census under the conditions that prevailed in the area at that time. It also holds that Mr. Rapp had declared himself convinced that 40,000 civilians died but had failed to explain or justify his conviction.
Also, the government is of the view that senior officials of the U.N. specifically dissociated themselves from this number. These include Sir John Holmes and Neil Bulne who was heading the U.N. in Sri Lanka at that time. Besides, the government holds that no attempt had been made to ascertain whether persons providing these accounts have partisan or self-serving motives. The government is of the view that "prejudiced" and "colourable" allegations had been treated as proven facts and guilt already assumed before any inquiry is made. The Sri Lankan government had charged that no credit is given to the Commission of Inquiry into Disappearances (headed by a former High Court Judge) or the census being conducted in the North by the Department of Census and Statistics.
Source: Daily Mirror - Sri Lanka
comments powered by Disqus