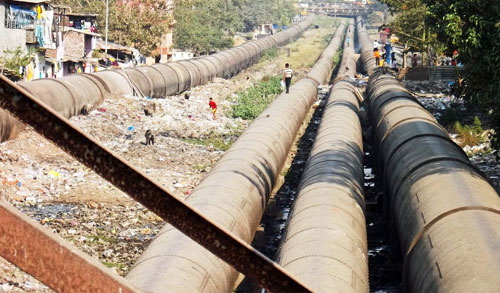 A new water pipeline network is to be set-up by the National Water Supply and Drainage Board (NWSDB) in the Colombo metropolitan area with the aim of preventing the wastage of pipe-borne water by 50 per cent.
Water Supply and Drainage Minister Dinesh Gunawardana said the project which will also cover several suburban areas is to be constructed at a cost of USD 219 million (Rs. 28.5 billion).
"With the steady increase in the population over the years and the dilapidated condition of t he existing pipelines, which are older than 100 years, the necessity for a complete overhaul of the water supply network in Colombo has been felt for many years," the Minister said.
He said the lack of funds had halted the project but the recent loan from the Asian Development Bank (ADB) now enabled it to be followed through.
The ADB has agreed to provide a grant of US$ 185 million out of the entire cost of US$ 219 million for the project which is expected to be completed in 2017. The NWSDB also plans to upgrade and renovate Ambatale Water Treatment Plant, that caters to Colombo, at a cost of US$ 137 million (Rs. 17.5 billion), the Minister said.
"Our target is to provide safe drinking water to all Sri Lankans by 2020 especially to the urban population as their only source of obtaining safe drinking water is pipe-borne water or bottled water," Minister Gunawardana stressed.
Accordingly, the Greater Colombo Water Rehabilitation Project, Kaluganga Water Supply and Drainage Project, and Colombo North and Negombo Water Supply Projects implemented at a cost of Rs. 65.5 billion will provide safe drinking water to the people inhabited in suburbs of Ragama, Welisara, Kandana, Ja-Ela, Ekala, Biyagama, Wattala, Kadawatha, Kelaniya covering two million people in the North of Colombo and another one million people in Piliyandala, Kesbewa and Bandaragama in the South of Colombo by 2017.
Source: Daily Mirror - Sri Lanka
comments powered by Disqus