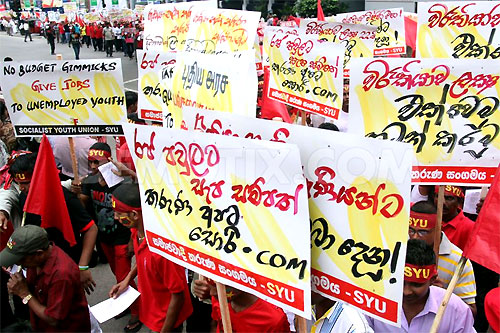 With the date for the announcement of the 2014 Budget Proposals fast approaching, the United People's Freedom Alliance (UPFA) Government is feeling the mounting heat generated by trade unions calling for a considerable pay hike for public and private sector employees, the Daily Mirror learns.
As a prelude to an intensified countrywide demand for a salary increase and for the elimination of salary anomalies, the All Ceylon Health Services Union (ACHSU) staged protests outside all state hospitals during the lunch break yesterday. ACHSU General Secretary Gamini Kumarasinghe told Daily Mirror that members of his trade union were demanding a 10,000-rupee pay rise in the 2014 budget to be presented in Parliament on November 21 by President Mahinda Rajapaksa.
"Today's countrywide protests are aimed at resolving the salary anomalies and the payment of salary arrears resulting from the issuance of the public administration circular 6/2006. If the government fails to provide this relief in amid the soaring cost of living, we will have no option but resort to trade union action from the last week of November until we win our demands," Mr. Kumarasinghe said.
JVP affiliated Trade Union Alliance Convener Wasantha Samarasinghe said his alliance which represents 350 trade unions with a membership of 500,000 from the public and private sectors has submitted 21 demands to the Government. Among the main demands is a monthly salary increase of Rs.10,000 and a cost of living allowance of Rs.5,000. He said the alliance was also calling for substantial increase in pensions.
"We have written to President Mahinda Rajapaksa to give us an appointment to discuss our demands and grant us at least our main demands through the 2014 Budget," he said
Source: Daily Mirror - Sri Lanka
comments powered by