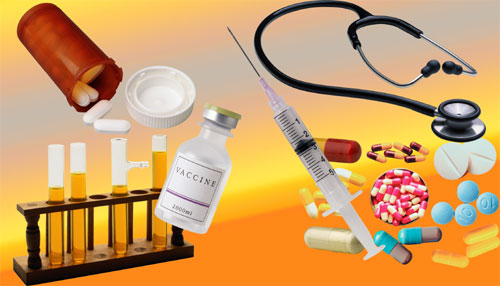 Health Minister Maithripala Sirisena said the draft of the much-awaited National Medicinal Drug Policy (NMDP) had been finalised and would be presented in Parliament for approval within the year.
Addressing the media, Minister Sirisena said the draft was currently being translated into English and Tamil at the Legal Draftsman's Department and the Health Ministry expected the draft Bill shortly.
He added that it would not be a difficult task to get it approved in Parliament as almost all political parties in the opposition had expressed their support of the policy.
"It is opposed only by drug companies that import, supply and distribute drugs and officials who are under the payroll of these companies," Minister Sirisena added. Minister Sirisena lamented that certain higher officials were hampering his efforts to implement the Drug Policy.
Not only multi-national companies, Health Ministry bureaucrats and other related agencies but powers beyond his control had disrupted the progress of putting the policy in the statute book and presenting the Bill in Parliament for approval, he charged.
Commenting on the long delay in implementing the policy, Minister Sirisena said the former head of the Legal Draftsman's Department gave an undertaking before President Mahinda Rajapaksa in December 2011 that she would complete the draft of the Act and hand it over to the Health Ministry within two weeks.
What happened since then was a mystery. She retired soon after the pledge before the President and along with her the promised draft had also vanished. The current Legal Draftsperson had to go through the entire exercise and draft the new Bill from scratch. Numerous appeals and inquiries made to the former Legal Draftsperson about the fate of the NMDP Bill did not bring about any positive results, a visibly annoyed and disappointed Minister Sirisena said.
Asked by a journalist whether the missing of the NMDP draft involved bribery or pressure from the higherups and companies, Minister Sirisena responded saying he did not know for sure but added it could possibly be both or either of them.
Minister Sirisena further stated: "The issuance of the gazette notification to cover cigarette packets with pictorial warnings such as oral and lung cancer and coronary heart disease as a result of smoking was subjected to the same fate. The Court of Appeal ruling that approved the request of the Health Ministry to that effect was challenged by the cigarette company and it has now been delayed for more than five months; people are dying every day from diseases related to smoking."
On the issue of the face of the cigarette packets with 80 per cent coverage of pictorial warnings, he said he expected legal clearance as soon as possible. In Sri Lanka alone 600 died per day from smoking related diseases and the government spent nearly Rs. 12 billion to treat patients of smoking related diseases.
Source: Daily Mirror - Sri Lanka
comments powered by