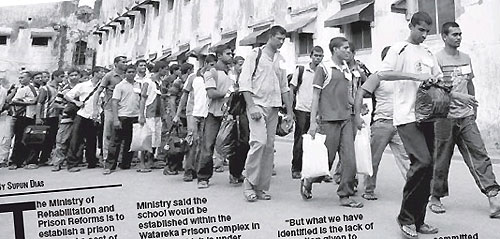 The Ministry of Rehabilitation and Prison Reforms is to establish a prison school at a cost of Rs.40 million for young inmates to rehabilitate and provide them with education which will help them to be better citizens.
The proposal was made as the number of young inmates in prisons has increased as most of them were arrested for using or possessing ganja, heroin as well as for robberies and murders, which were minimal.
A spokesman for the Ministry said the school would be established within the Watareka Prison Complex in Padukka which is under construction, where the government plans to relocate the prisoners in Welikada. It will be able to accommodate around 450-500 students at once.
"There was a time when the majority of the prisoners were uneducated but now it was different. Most of the inmates have passed Ordinary Level examinations," he said.
"But what we have identified is the lack of education given to motivate them and follow good conduct," he added.
"Rehabilitating them is part of the process but that is something we do. But what we intend to do by establishing a school will be different," he said.
"At the end of the day, what the government wants is for these young prisoners to learn from the mistakes they committed and be productive people to the society and to the country," he noted.
The Ministry of Education was also discussing with the Ministry of Rehabilitation and Prison Reforms on the requirement of academic staff, text books and other teaching facilities.
Source: Daily Mirror - Sri Lanka
comments powered by