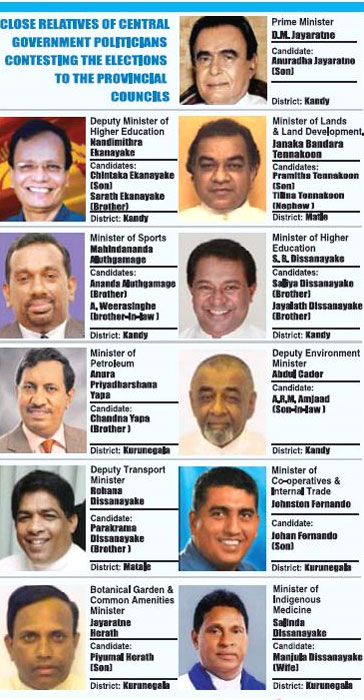 With 17 close relatives of central government politicians contesting the elections to the three provincial councils, election monitors have alerted the Elections Department on the possible abuse of state resources belonging to various line ministries, officials said yesterday.
Government politicians including Cabinet Ministers have fielded their close relatives including sons and brothers for this election. People's Action for Free and Fair Elections (PAFFREL) had alerted Elections Commissioner Mahinda Desapriya about the possible abuse of state resources for electioneering by these candidates .
Sports Minister Mahindananda Aluthgamage has fielded his brother Ananda Aluthgamage and brother-in-law Aluthgamage Weerasinghe for the election in the Central Province. Deputy Higher Education Minister Nandimithra Ekanayake's son Chintaka Ekanayake has also entered the fray in the same province. The Deputy Minister's brother Sarath Ekanayake (a former chief minister) is also contesting the elections on the UPFA ticket from the Kandy district.
Prime Minister D.M. Jayaratne's son Anuradha Jayaratne is in the ruling United People's Freedom Alliance(UPFA)'s Kandy district list . Higher Education Minister S.B. Dissanayake has secured nominations for his brothers Saliya Bandara Dissanayake and Jayalath Dissanayake.
Land Minister Janaka Bandara Tennakoon's son Pramitha Bandara Tennakoon is contesting from the Matale district. His nephew Tilina Bandara Tennakoon is another contestant. Deputy Transport Minister Rohana Dissanayake's brother Parakrama Dissanayake is contesting in the Matale district while Deputy Environment Minister Abdul Cader's son-in-law A.R.M. Amjaad is in the Kandy district list.
The list of the Kurunegala district includes Internal Trade Minister Johnston Fernando's son Johan Fernando, Petroleum Minister Anura Priyadarshana Yapa's brother Chandana Yapa, Indigenous Medicine Salinda Dissanayake's wife Manjula Dissanayake and Botanical Garden and Common Amenities Minister Jayaratne Herath's son Piyumal Herath.
In addition to the ruling party, opposition United National Party (UNP) MPs have also brought in their relatives. Among those contesting on the UNP ticket are Kurunegala district MP Gamini Jayawickrama Perera's son and Matale district MP Wasantha Aluvihare's brother Ranjith Aluvihare while Minister Navin Dissanayake's brother Mayantha is contesting the PC elections on the UNP ticket in the Kandy district.
Source: Daily Mirror - Sri Lanka
comments powered by