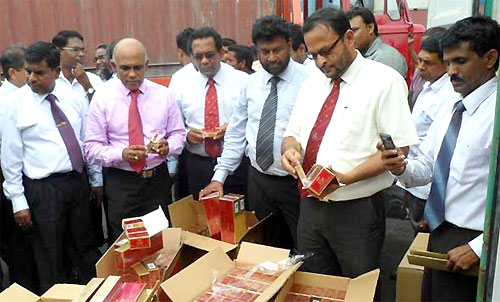 The Public Account Committee(PAC) of the present Parliament, in its first ever report , highlighted, among others, that the revenue arrears of Sri Lanka Customs had increased to Rs.9 billion during a five year period, but action had not been taken for their recovery. Like the Committee on Public Enterprises (COPE), the PAC is another supervision committee that examines the financial performance of Ministries and state departments. The COPE which deals only with state corporation, boards, bureaus etc submitted its report on Tuesday.
PAC Chairman and Deputy Minister Dr. Sarath Amunugama presented the report based on the financial performances at 69 ministries and departments. Delays in tabling annual and performance reports in Parliament, non recovery of loans, underutilization of assets, failure to fill vacancies are among the major shortcomings at these ministries and departments.
Among them, numerous financial irregularities had been reported at Sri Lanka Customs causing losses running into billions of rupees. Apart from the increase of revenue arrears during the period between 2005 and 2010, there were other cases as well. In one instance, four companies had dodged the payment of Rs.172 million in terms of excise duty. Also, the report says an A C 15 craft purchased at Rs. 6 million had been retained without being used.
Incorrect computation of Value Added Tax(VAT) on imported sugar had caused a loss of Rs.44 million during the period between 2002 and 2006. In another case, Sri Lanka Customs had lost Rs.3 million due to the declaration of 15 seater vehicles in the category of 16 seater vehicles. Also, a stock of wooden furniture with archeological value had been misplaced after they were confiscated. Besides, US dollar notes with an exchange value of Rs.8,011,529 had been misplaced after they were seized by customs officers.
The PAC , in its report, notes that it expressed its displeasure over the failure on the part of the Inland Revenue Department to charge sheet officials responsible for the 2004 VAT fraud. Later, a committee had been appointed to look into the matter. The underutilization of assets and allocations has been observed particularly at Department of Police, Ministries of Technology and Research, Ports and Aviation, and Traditional Industries and Small Enterprise Development.
The last PAC report was submitted in 2006 only, and at that time, Minister Rauff Hakeem was the chairman.
Source: Daily Mirror - Sri Lanka
comments powered by