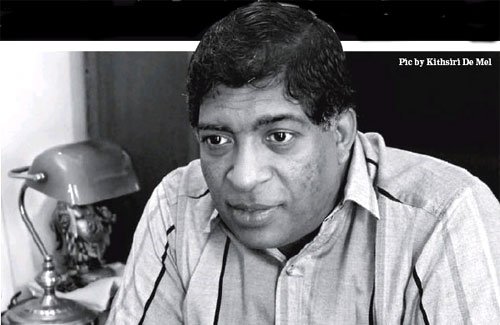 The United National Party (UNP) parliamentarian Ravi Karunanayake speaks to Daily Mirror about the ongoing political scenario of the country. Having served as a Member of Parliament for 19 years he also expressed his views regarding the controversies which have arisen within the opposition.
Q: The United National Party (UNP) has been quite silent about the 13th Amendment. What is the party's stance on this hot topic?
A: We brought the 13th Amendment in. Now we believe from the day that D.S. Senanayake got elected this is a Sri Lankan identity and Sinhalese, Tamils, Muslims, Burghers, Malays, Buddhists, Christians, Hindus, Islam and everybody has a right to the country. That was the starting point. From there onwards we made political decisions for devolution of power – that political decision-making power should be devolved. We brought something which we believe is the best way to take the country's decision-making to the people. With that the 13th Amendment surfaced. When J.R. brought it they said it was too little, too late. But we believe it is the only way to keep the unity and give as much devolution as possible. So you ask us why we are silent - we challenge the government, you have two-thirds, why don't you bring something better. Why do we need to condemn what we brought in? We believe it is the only way to keep the country together.
There was a myth that Colombo was the only developing point. Now you could see that the nine provinces have taken the development out. It is because you are giving the money and the power to the people in the area to develop their own areas. Colombo didn't decide how a guy in Ampara was going to develop his area.
The 13th Amendment certainly does have certain concerns. Consider land powers which have been with them for the last 26 years; what has devolved for them, they can use it but when the government wants, it can immediately take it. The President and the Cabinet can basically take anything that runs within their rims of activity. Land is devolved to the provinces for provincial activities. If it is central government activities you can take it. So then what is the fear? You had the 13th Amendment with the bulk of terrorists and they could not do anything, now without the terrorists what are you afraid of ? Likewise, police powers; once again, if the 17th Amendment independent commissions were there, these problems won't exist.
So these are fears they put forth because they cannot give answers to the CEB problem, the banking problem and the employment problem. They say 'sovereignism is the last refuge of a scoundrel.' That is what they survive on. There is a hidden agenda and nothing else.
Q: Some voice concern that the country will be ruled by nine different laws and the rule of law will be lost. Do you foresee this happening?
A: I do foresee these things happening. Not from the north and east but from the other seven bandits in the rest of the country who think from the Sinhala domination point of view. They are running amok. You have 64 chairmen from Pradeshiya Sabhas who are caught for either corruption, murder, rape, molestation of children and such cases. What are they doing? The Central Government should be completely controlling what is delegated. You don't need to look only from a Muslim, Tamil point of view. Look at it from a majority point of view.
Q: What can you say about the prevalent violence and corruption and responsibility of the Government to curtail such acts?
A: It is sad. They are misusing their power. You see one provincial councilor getting teachers to kneel before him. The other one is alleged to have killed tourists that come in. There are 64 Pradeshiya Sabha chairmen and MPs who are completely misusing their power. These are matters that are degrading the society; financial degradation, religious degradation. The areas of ethical standards are eroded. There is no minimum requirement list for MPs. There should be some sort of decorum when somebody assumes office. That is non-existent. This is because the top is not concerned about the necessary standards.
Q: What is the UNP's position about the Government's diplomatic ties with India?
A: I think it has been handled very immaturely. India is our closest neighbour and it has been most treacherously handled. India is not someone we can afford to be bullying. This Government has a penchant in taking diplomacy at a very arrogant level. They irritate America, they annoy Europe, they fight Japan and our closest neighbour India, they are taking head-on.
Diplomacy doesn't mean you have to do what the foreigners want. You have to come to an equitable situation where there is a give and a take. If you try to be taking the world on, you get the same reaction.
India is being handled very childishly for the simple reason that the government has the attitude that they can come and shout and the whole world must bend before them.
Our foreign policy is non-existent. The problem is we have a lawyer to do a doctor's job, a doctor to do an engineer's job, engineer to do an accountant's job.
Q: What do you think of the upcoming Commonwealth Heads of Government Meeting?
A: As a nation we are happy that we are having CHOGM. This is not a sudden decision. It is a marathon and every country has its turn. So we knew it was coming. Our turn got postponed from last time to this time. While we appreciate that CHOGM is there we would also appreciate if all 54 leaders attend. When it comes closer to the date we should not hear that this person is sick, that person is not coming and at the end of the day have 54 people come for a holiday rather than the CHOGM. We urge the Government to do everything to ensure we get the best out of it because we are spending money we cannot afford to spend. We are getting our people to suffer to show the world how prosperous we are.
Q: There is an on-going discussion about the women's representation in the parliament. What are your thoughts on that?
A: I would say the opportunity is there. We do put ladies as contestants. But the ladies don't have confidence in the ladies and they don't win. While the right is there for women, we don't need to enforce something that people themselves don't want. These are unwanted things that are being pushed by people who don't think they stand a chance the normal way. The opportunity is certainly there. Sri Lanka had the first female Prime Minister of the world. But was it positive? Then there was the female President. That was worse. There is no problem. People have the free choice to elect men or women. If we have equal rights, then let it be equal.
Q: What is your opinion on allegations that there is disunity within the UNP?
A: All I can say is that when you are in the government everybody's at your feet. But when you are in the opposition everybody's at your neck so that's what we are going through now. Of course we are going through a hard time.
Q: Do you accept that there is disunity among the party members?
A: Certainly there are some who have created major problems - one or two people who do not like to see us in the government and who work with the government are making life difficult for us. There is an orchestrated movement by some individuals to create problems.
Q: At a period where the opposition needs to be strong, do you think these issues within the party affect the party's strength?
A: Certainly it does. But now it has come to the last stages where people who have tried, have got their faces rubbed on the ground and now they have seen the reality. I think now the sense of purpose and unity is coming out.
Q: Do you believe that all these issues within the party will be solved?
A: Well the prescription is there. Now it is time to take the bitter pill, where you have a give and a take. But if some people are willing to lend a hand to see a discord within the party, then what do we do? As they say 'none are as blind as those who refuse to see'. That's the type of thing that is going on. Now one or two of those elements have also converted themselves.
Q: As a senior member of the UNP you have served the party for almost two decades. At one point you said you have become a person who is only there to do the hard work but doesn't receive any recognition for it. Why do you say that?
A: If we are taken for granted just because we are seniors then that doesn't mean we want to be signal posts for the party. Everybody's talents must be looked at. This is not a father to son party and this is not a family oriented party. It is a talent oriented, merit based party. We are not there only to douse the fires that are coming up but to be a part of the action. I'm sad the leadership has not addressed those issues. I also like to see a party with the merit. People believe when a UNP government comes into power businesses grow, there is money and investments are entering the country. For people who have confidence in us we must ensure we work for their confidence and not to our personal agenda.
Q: So does this mean that you were not given the positions which you deserve?
A: Certainly not. I'm in the parliament for 19 years. We see that inexperienced people were given certain positions and how they have ruined the system. People have now realised something is wrong. Our job is to see that we come into power.
We have to do what is expected of us. We must win the confidence of the people. That is necessary and it is happening.
The abolition of the executive presidency is a must. It is a curse to the country. There is nobody who is tall enough to take the pressures bestowed on this position. President Jayewardene's biggest asset and liability was the Executive Presidency. He did it and should have unfolded it when he went. Instead he gave it to President Premadasa and it was worse than what he did. Only President D. B., in two years allowed for a semblance of acceptance which could go on. Then he had a clean election and gave it to President Chandrika.
Q: What is the position you hold about "Wipakshaye Wirodhaya" (Combined Opposition)?
A: It's a good cause that everybody with different thinking, with a heterogeneous thinking, is in a combined opposition. And I believe it is heading towards the right direction. When Chandrika was there she also had something similar with four or five parties. Now we have much more and much stronger. But each of those who contribute must not feel they are similar to one another. For instance a person who is in one party which has two members thinking it is the same as UNP is a folly. But it is an amalgamation of heterogeneous thinking.
We have press conferences every week. I think this is what President Rajapksa should be most scared of. This movement is becoming stronger every day and the Government will do everything possible to break it. They are using their power to the maximum to suppress the movement.
Q: Do you feel that the UNP lacks marketing?
A: Yes the UNP lacks marketing and I would like to say lacks the people's perception that we are a people's party. We are very much broken. Action has been taken to change the situation. And people have also realised the mistakes of the Government. An example is the electricity price increase. It did not need to happen.
Q: Do you think there is a possibility for a UNP government to come into power?
Yes definitely. It is just round the corner. There is no better government for the country than the UNP because at present it is a one-man show. We are heading towards the dictatorial government. But we are going to end this. The sart of the end is here.
Q: Are you going to join hands with ex-Army Commander Sarath Fonseka and the DNA?
A: There is nothing about we joining them - everybody is joining one another. There is no special requirement for them to join. That is their choice and all we need is the common opposition, a common objective and we can go forward.
However abolition of the Executive Presidency is a must. Before Chandrika Bandaranaike came into power she said she would abolish this, but did not do so. Before President Mahinda Rajapaksa came into power he promised to abolish it. He has failed to keep his promise. He contested twice, won and made the amendment to contest the third time.
Q: But if someone points out that the UNP is the very creator of the Executive presidency?
A: Yes we do accept that we are the architects of the Executive Presidency and that is why we want to abolish it. We do accept it is a cursed decision which is why we have drafted a new constitution. We have given the people a choice. We need a people's constitution. Rather than saying it is a UNP constitution, it is a people's constitution.
Q: What is happening to the constitution drafted by the UNP?
A: Well it is an embodiment of our ideas, legalised by the legal knowledge of prominent lawyers like Wijeyedasa Rajapakshe, Thilak Marapana, Nissanka Nanayakkara and other lawyers.
Q: Do you think it has a fighting chance? And when do you think this will actually come into force?
A: Yes, it has more than a fighting chance. We would like to see it enforced from today onwards. But now the provincial council elections are coming. It is a good opportunity. We can move from there onwards.
We challenge the Government. If the 13th Amendment is bad then abolish it. Why do they need to shout about it? When India's pressure comes up why has the Government got to bend their knees? We have our own foreign policy. Then why do you need to worry about India?
If they want they can abolish it. Otherwise say UNP's 13th Amendment is the best. They have appointed a parliamentary select committee without the major parties such as UNP, TNA, SLMC. Only the parties connected to the government. They have a 2/3 rd majority. If they want to abolish it why not do so?
Don't run with the hare and hunt with the hound.
Source: Daily Mirror - Sri Lanka
comments powered by