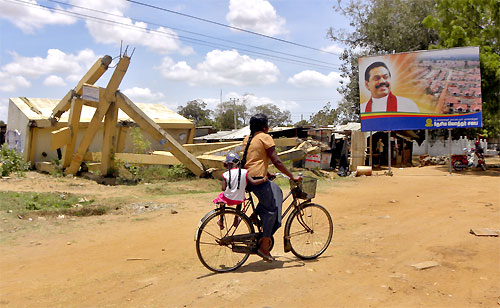 The Land and Land Development Ministry is to take a final decision on the 250,000 plots of land in the North-East before the end of 2014 in accordance to the LLRC recommendations, subject Minister Janaka Bandara Tennekoon said.Minister Tennekoon said the government had decided to take over 6,381 acres of land in the North under the expansion programme of the Palaly High Security Zone and adequate compensation and alternative lands would be provided to all who lose their lands.
"The government has the right to take over private properties for development and security purposes from any part of the country and compensation and alternative lands will be given to those who evict from their lands. I am aware that the government was compelled to take over private lands where owners have lived for decades but the priority has to be given to the security of the country and therefore, the government has no choice but to take over those lands," Minister Tennekoon stressed. The Land and Land Development Ministry is in the process of relocating people on 100,000 plots of land and 50,000 plots are to be distributed in the North under the 'Bimsaviya' programme.
'We withdrew the land circular number 2011/4 on the Supreme Court ruling following the petition filed by the TNA. We have now issued the 2013/1 circular and lands will be distributed and the people will be relocated according to that circular," he said.
Minister Tennekoon admitted that 90% of the lands in the North were privately owned and therefore 1,474 land owners had petitioned to the Court of Appeal against the government's decision to take over their lands for security purposes.
Source: Daily Mirror - Sri Lanka
comments powered by