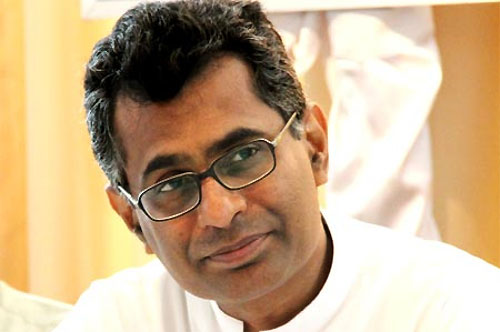 The Indo-Lanka accord and the 13th Amendment remain annulled as India did not keep its side of the bargain which included the disarmament of the LTTE, Jathika Hela Urumaya (JHU) General Secretary Patali Champika Ranawaka said yesterday.
He made these remarks at a rally organised in Maharagama yesterday by the National Collective (Jathika Ekamuthuwa) which was a joint venture of the Jathika Sanga Sammelanaya (JSS) and the Bodu Bala Sena (BBS) to press for the abolishment of the Provincial Council (PC) system in Sri Lanka.
Addressing the gathering, Power and Energy Minister Ranawaka said "India promised President Jayewardene that it would disarm the LTTE within 72 hours when the Indo-Lanka accord was signed. But India failed to keep this promise. Therefore, it is an illegal document. Sampanthan during a speech made in Batticaloa said they plan to take their struggle forward with the help of India and United States of America (USA) or they would establish an Eelam state through direct action in the manner Pakistan did."
Speaking further Ranawaka said if anyone thought of coming into power by holding the Tamil vote bank in one hand and the Muslim vote bank in the other, those people were mistaken.
"It is not Hakeem or Sampanthan that will take this country forward but the national forces including the Buddhist monks. So we ask this Bill to repeal the 13th Amendment to be brought to parliament soon and we will ensure that the necessary 150 votes will be there. It is not only the president's responsibility, but it is also the responsibility of the government and the opposition too, to correct this historical error called the 13th Amendment," Ranawaka said.
Meanwhile, the BBS General Secretary Ven. Galagodaaththe Gnanasara Thera speaking about the national collective formed by the two nationalist movements BBS and JHU said they were ready to join hands with any force to protect the unitary state and to prevent separatism taking place in this country.
"As long as President Rajapaksa maintains the unitary state we will support him and protect him. It doesn't matter to us how long he will govern as long as Sri Lanka is a unitary nation. Nevertheless, during the war we failed to defeat the LTTE politically. So by implementing the Northern PC, Sri Lanka is creating a heaven for the foreign enemies," Ven. Gnanasara Thera said.
Source: Daily Mirror - Sri Lanka
comments powered by