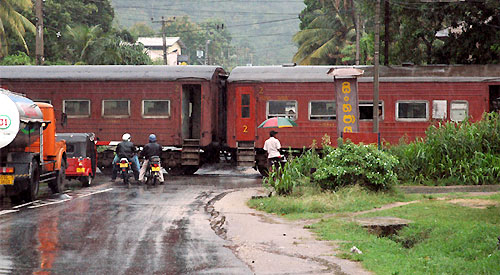 The Trade Unions of Sri Lanka Railways raised concern on the safety of the Indian made power sets as the traction motors of majority of them had allegedly become unusable.
The Chairman of the Organisation for Protection of Properties and Rights of Railway Employees (OPPRRE) S. P.Withanage said the S-11 power sets imported from India were showing signs of mechanical malfunctioning within two years of running though a new locomotive must run without mechanical defects for a minimum of five years.
"A fleet of 20, 3-11 power sets were imported from India in April 2011 and they started giving problems as early as September 2011 while the minimum run without a repair of a new locomotive is five to eight years," Mr. Withanage stressed.
He added that four traction motors are fixed to a power set and 20 power sets run with 80 traction motors. But 33 traction motors were found to be malfunctioning were sent for repairs to the Engineering Department at the main railway workshop at Ratmalana. One traction motor costs the Sri Lanka Railways Rs. 3 million and the loss is nearly Rs. 100 million. Apart from the loss, the Indian power sets now run only with two or three traction motors giving an unnecessary heavy load to the engine. Therefore, it is possible that these power sets may stall during running. The threat will seriously affect the railway service, he added.
Mr. Withanage said the manufacturing company of the power sets had sent several mechanics to repair the traction motors but they failed and Sri Lankan mechanics did the job and put them into use.
Source: Daily Mirror - Sri Lanka
comments powered by