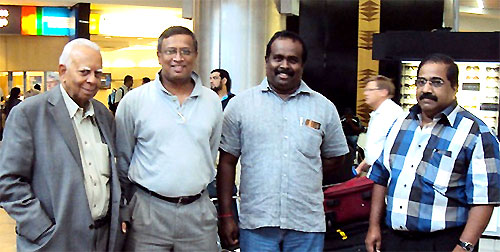 The constituent parties of the Tamil National Alliance (TNA) have sought the assistance of Mannar Bishop Rt. Rev. Dr. Rayappu Joseph to prevail upon the party leadership to have the party registered as a separate political entity, ahead of the Northern Provincial Council (NPC)election, informed sources said yesterday.
The TNA is made up of five parties -- Ilankai Tamil Arachu Kachchi (ITKAK) headed by MP R. Sampanthan; Eelam People's Revolutionary Liberation Front (EPRLF) headed by MP Suresh Premachandran; Tamil Elam Liberation Organization (TELO) headed by MP Selvam Adaikkalanathan; People's Liberation Organization of Tamil Elam (PLOTE) led by Dharmalingam Siththarthan and the Tamil United Liberation Front (TULF) headed by V. Anandasangari.
Except for the ITAK, representatives of the other four parties met the Mannar Bishop last Friday, and asked him to persuade the ITAK to register the TNA as a political entity and to help ensure unity in the party. These four parties accuse the ITAK of wielding extra powers within the TNA.
The simmering dissension with these four parties on the one side and the ITAK on the other took a turn for the worse after the government announced that the NPC elections would be held in September this year. The international community has focused its spotlight on this election. Several politicians are known to be eyeing the post of NPC Chief Minister.
Source: Daily Mirror - Sri Lanka
comments powered by