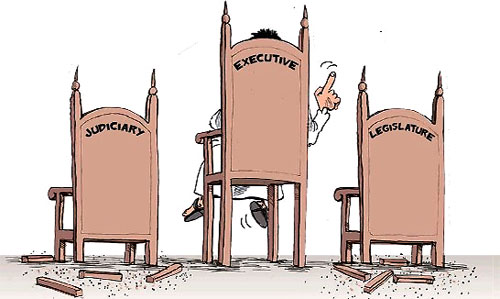 Describing the executive presidential system as the root of all evil in Sri Lanka, the National Bhikkhu Front has appointed a team of eminent lawyers to draft a new constitution to restore parliamentary democracy.
A spokesperson for the Bhikkhu Front said that once the draft of the new constitution is completed they will take it to the Mahanayake Theras and leaders of the other religions to get their support for this constitution, through which democracy, good governance, accountability, the rule of law and the independence of the Judiciary would be restored.
The Venerable Meetiyagoda Gunaratne Thera, one of the leaders of the Bhikkhu Front met Cardinal Malcolm Ranjith, the Archbishop of Colombo last Thursday to obtain the support of the Catholic Church. The Cardinal said he and the Church would give 200 per cent support for a new constitution to restore parliamentary democracy, and that it was necessary for Buddhist prelates to lead this campaign to save democracy. The Bhikkhu Front has also held talks with several Buddhist prelates and hopes to meet leaders of other religions too.
The SLFP, the CP, the LSSP and other parties in the ruling UPFA have described the executive presidential system as a curse. In 1994, the then President Chandrika Bandaranaike Kumaratunga gave a written assurance to the JVP that she would abolish the executive presidential constitution by June 1995. It took four more years to draft this new constitution for parliamentary democracy and present it in parliament. The constitution was drafted mainly by Law Professor G.L. Peiris and Eminent Lawyer Neelan Thiruchelvam. It would have not only restored parliamentary democracy but also provided a solution to the ethnic conflict through the proposed union of religions.
But the main opposition UNP playing the racial card like J.R. Jayewardene did in 1957 and 1983 – strongly opposed President Kumaratunge's draft constitution and burnt copies of it during an uproar in parliament, forcing the President to abandon it. So the UNP is as much responsible as the Rajapaksa regime for the national and international mess we are in today with the breakdown in the rule of law, the apparent end of constitutional democracy, possible suspension from the Commonwealth and a strongly-worded censure if not sanctions by the United Nations Human Rights Council which holds its annual sessions in Geneva from February 25.
The Rajapaksa regime appears to be unconcerned or resigned to its fate in the international community. With the United States preparing a tough resolution and most countries including India likely to support it the Government is not even sending Minister Mahinda Samarasinghe who is the President's special envoy on human rights issues. Instead the Government delegation is likely to be led by our Ambassador in Geneva.
With import costs increasing amidst continuing frauds in fuel imports, export income decreasing and the Government launching major project after project on borrowed money, the political and economic fate of Sri Lanka is very much in the balance.
Source: Daily Mirror - Sri Lanka
comments powered by