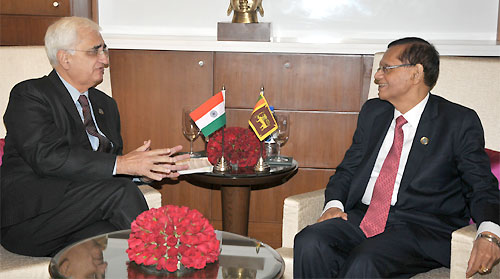 The reduction of heavy trade imbalance with India will be among the major focusses at the Joint Commission meeting to be held in New Delhi on January 21 and 22, External Affairs Minister G.L. Peiris said yesterday. The two sides will meet to review the entire gamut of economic relations between the two countries. The Sri Lankan delegation will leave for India on Sunday to participate in the meeting. The delegation will comprise officials from the economic division of the ministry.
Prof. Peiris told the Daily Mirror that it was of vital importance to improve economic relations with each other under a climate of peace and stability prevailing at the moment. He said priority would be given to get maximum benefit from closer co-operation. "I am looking forward to meet India's newly appointed External Affairs Minister Salman Kurshid. We, both, were at the Oxford University. There is so much in common and I am looking forward to work with him," he said.
Earlier, Sri Lankan traders raised concerns about the trade balance between the two countries being heavily in favour of India. The total volume of bilateral trade hit the US $ 5 billion mark last year. Asked how the imbalance could be reduced, he said India had agreed to export and give more openings to Sri Lanka. The Minister also said that Sri Lanka would seek Indian expertise to develop the manufacturing sector here.
The Information Technology and banking and insurance services, tourism are the other key areas to be explored.
However, traders doing business with India stress on the need to strengthen the import and visa regimes of Sri Lanka to protect local businesses.
They said that there are still restrictions in terms of tariffs and nontariff barriers for Sri Lanka's exports to India.
Varying rules and regulations adopted by different states i n India have placed hurdles for Sri Lankans doing business with India.
Source: Daily Mirror - Sri Lanka
comments powered by